The commitment of companies to diversity, equity and inclusion (DEI) reached a tipping point in 2020 and unprecedented levels of interest in and commitment to supply chain diversity in organizations, especially around race/ethnicity and gender, surfaced in recent Gartner research undertaken with the Association for Supply Chain Management (ASCM).
The findings are consistent with employees increasingly expecting their employers to take a stand on societal and cultural issues, regardless of the issue's relevance to the employer.
Gartner Supply Chain Symposium/ Xpo™
Objective insights, strategic advice and practical tools to help supply chain leaders achieve their most critical priorities
Learn More
"Current and prospective employees want to see action in the form of real investment — in terms of budget, resources or internal changes," says Dana Stiffler, VP Analyst, Gartner. They also want transparency regarding how the organization arrived at the chosen actions and its progress against those actions."
Supply chain leaders already have to deal with a major talent shortage. To stay attractive for new and existing talent, they must closely evaluate their organization's supply chain diversity commitments and take appropriate action. The 2021 Gartner/ASCM Supply Chain Diversity, Equity & Inclusion Survey was conducted globally, and while many of the respondents were located in the U.S., Canada and Europe, the learnings are applicable for different geographies and dimensions of diversity.
Learn more: Supply Chain Skills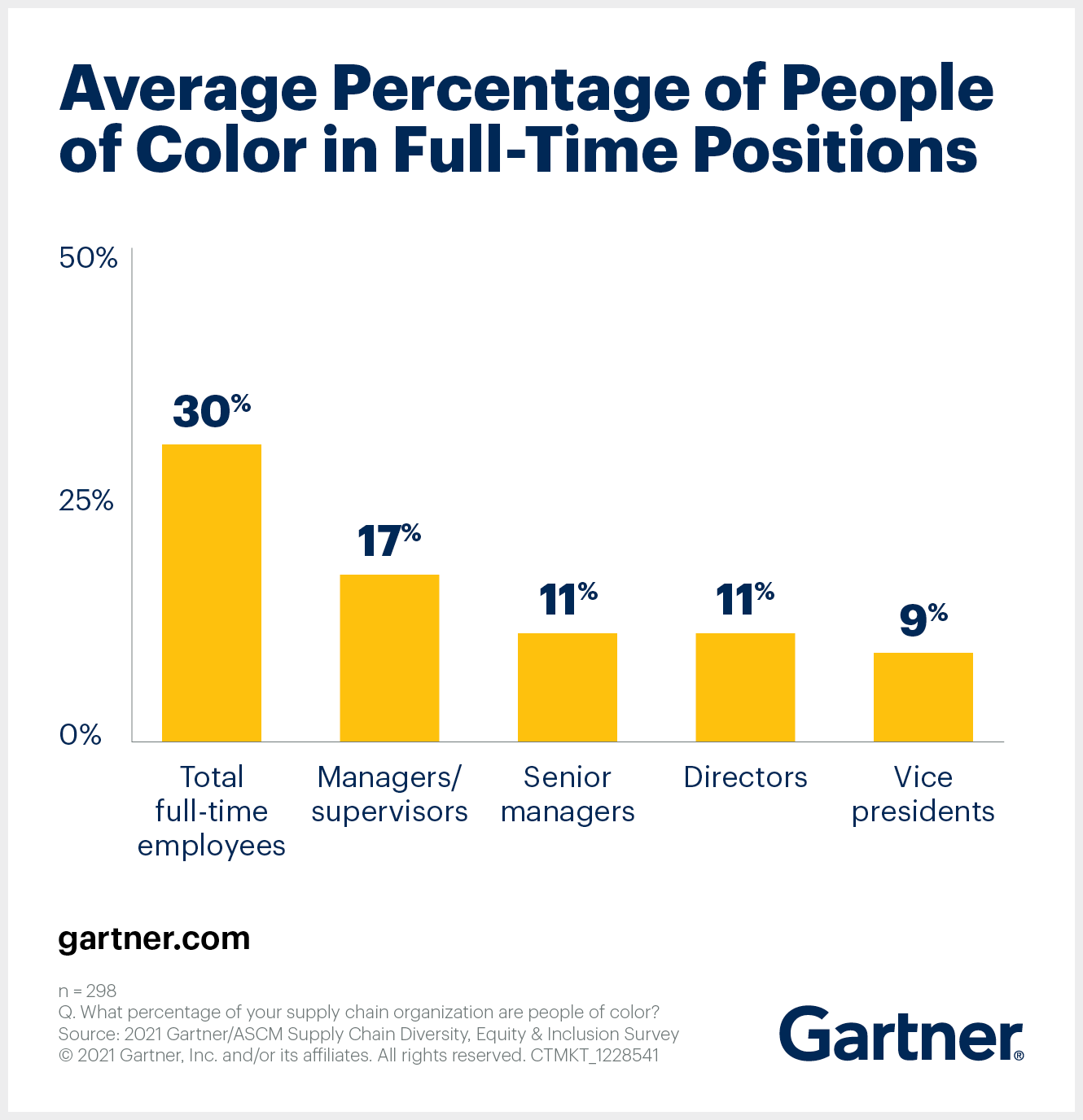 DEI Learning No.1: Build equitable representation in leadership

People of color (POC) account for 30% of the full-time supply chain workforce, but representation declines sharply with seniority — to only 9% of vice presidents.
Those numbers are relatively consistent across all supply chain industry segments. The largest supply chain organizations (with an annual revenue of more than $5 billion) show a less massive drop-off in representation at the beginning of the career ladder – with people of color accounting for 23% of managers but 34% of the overall workforce.
Their pipeline advantage relative to smaller companies erodes slowly, but steadily as we reach the executive positions. At the senior-most levels, POC representation levels are almost the same in organizations of all sizes.
Leaders must ensure equitable promotion and pay structures, and provide clarity around which experiences are critical for first-time managers to have had to be successful in their new role.
Read more: The Future of Supply Chain: Resilient, Agile, Purpose-Driven
Those numbers clearly illustrate the need for leadership development programs for minorities. "We must mentor people of color and prepare them for their next career step," says Stiffler. "Leaders must ensure equitable promotion and pay structures, and provide clarity around which experiences are critical for first-time managers to have had to be successful in their new role. DEI considerations must also be integrated into performance management and succession planning."
DEI Learning No.2: Actions must follow commitments
More than half of supply chain organizations have some form of objective to improve diversity, equity and inclusion, and 23% of those organizations have formal targets and goals that are represented on management scorecards. However, that means 42% of supply chain organizations have no plans to improve diversity, equity or inclusion.
Global supply chain organizations are far more likely to have DEI objectives — particularly formal targets or goals — than their smaller peers. And only 24% of small business supply chains have DEI as an objective.
Read more: CEOs Want Supply Chain Leaders to Focus on Digitalization and Talent
Supply chain organizations' goals and objectives should also translate into specific projects and initiatives to meet those ambitions. DEI is particularly vulnerable to statements and goals that aren't backed up by actions.
To ensure that DEI moves forward, supply chain leaders must identify and resource specific projects and initiatives to drive, lead or influence DEI, e.g. diverse hiring panels and mentoring programs, and reduce reliance on widespread but less effective initiatives such as anti-bias training.
DEI Learning No.3: View flexible work models as a chance to acquire diverse talent
The survey results show that large organizations do better than their smaller peers when it comes to DEI. This is not surprising given the larger talent pool and resources available, but also the increased pressure on big brands by consumers, shareholders and the general public.
However, the rise of remote and hybrid work models provide all supply chain organizations, but especially smaller ones, with access to new talent pools through which to hire and retain diverse talent. Supply chain leaders in smaller businesses must be alert to bias in their recruiting process while staying open to new ways to work that could attract diverse talent.