Chief sales officers (CSOs) are expected to generate business impact as never before, and leading CSOs are seeing dividends from a comprehensive account-based strategy (ABS) that captures and leverages a range of customer interactions across their organization in a way that traditional demand generation tactics can't. But make no mistake, it is a strategy shift.
"B2B selling today means engaging customers on their terms wherever and whenever they prefer to engage, interact and transact with their suppliers. Sales leaders therefore have to reexamine their strategy — and in many cases go back to square one," says Craig Rosenberg, Distinguished VP Analyst, Gartner.
Learn more: Gartner CSO & Sales Leader Conference
The challenges of modern B2B selling
CSOs must increasingly deliver against a wide range of key performance indicators (KPIs). They're expected to increase conversion rates, shorten sales cycles, create and bolster prospect pipelines, and increase revenue throughout the customer life cycle.
And sales organizations must meet these goals in a world where B2B buyers increasingly want to engage with suppliers through digital and self-service channels — often without any interaction with sales reps at all.
Consider the reality:
70% of sales reps cite access to stakeholders as a primary challenge due to increased digital buying.
49% of organizations cite pipeline and demand generation as their critical 2021 initiative.
Over 50% of organizations surveyed in 2020 either reevaluated or planned to reevaluate their ideal customer profile and target markets.
Download framework: Virtual Selling
What is account-based strategy?
Despite the reality pointing to fundamental shifts in sales strategy, it is still imperative for sales to collaborate with marketing to drive engagement and progress target accounts through the customer life cycle, even more so in the increasingly virtual environment.
"While strong sales-marketing collaboration can be seen in account-based marketing, they fall short because sales leaders who see account-based initiatives as solely driven by marketing will miss opportunities to acquire new customers and grow existing customer accounts," adds Rosenberg.
Furthermore, the friction that commonly exists between sales and marketing can result in a misalignment of priorities, target customers and success metrics for each organization. This disconnect further silos organizations and leads to inadequate collaboration and misdirected resources.
This where sales-led account-based strategy comes into play. Account-based strategy is the coordination of valuable, relevant experiences delivered across all functions that impact the customer to drive engagement and conversation at a targeted set of accounts. As opposed to traditional demand generation tactics, account-based strategies enable marketing and sales teams to focus resources on highly targeted engagement plays with target accounts.
Why is account-based strategy effective today?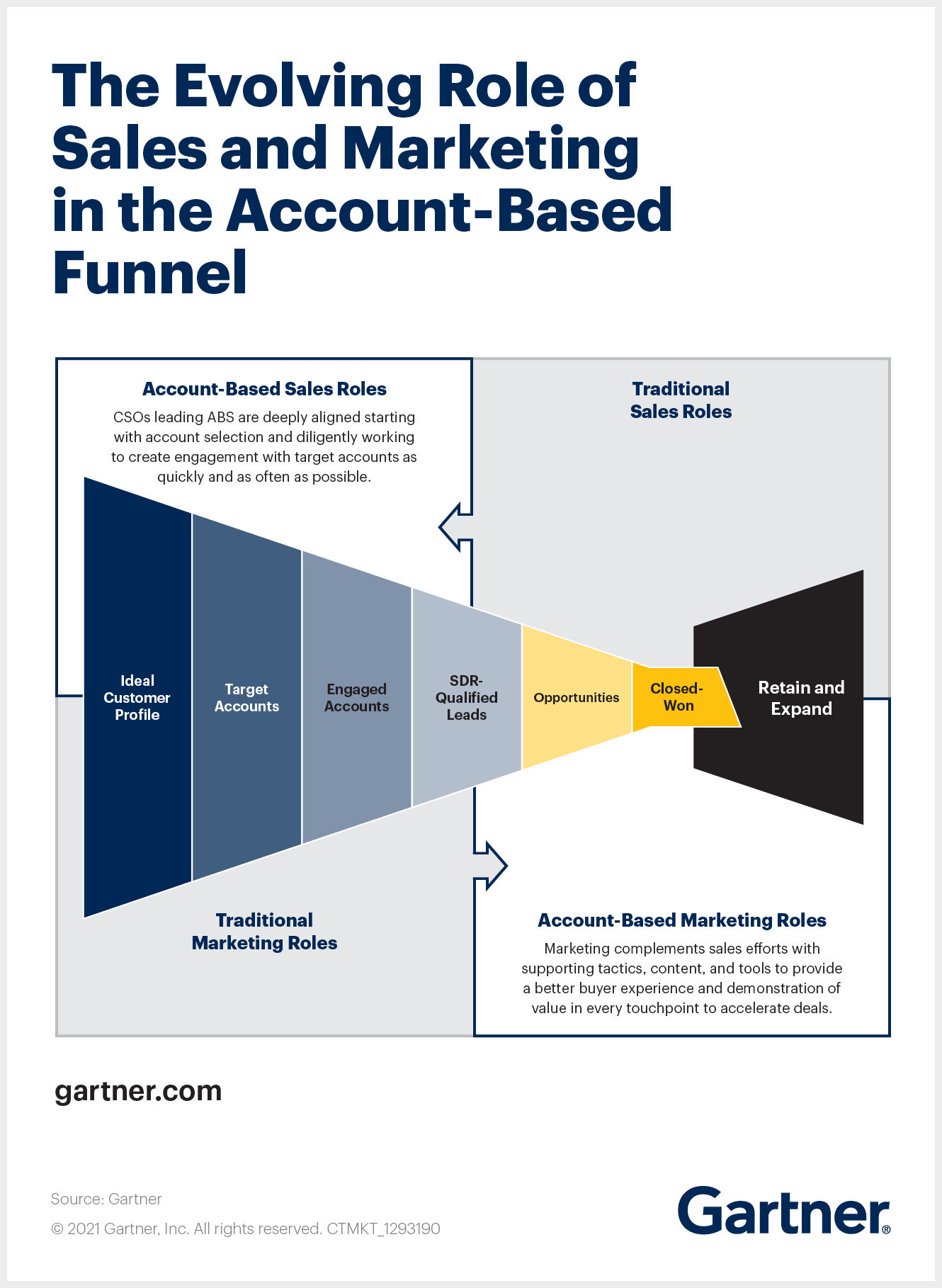 In the image above, the account-based sales roles visualize a dramatic change for most CSOs to pay attention further upstream in funnel stages traditionally controlled by marketing. CSOs leading ABS are deeply aligned starting with account selection and diligently working with marketing to create engagement at selected target accounts as quickly and as often as possible.
The lower-right quadrant displays the support role marketing plays in ABS to complement sales efforts to provide a better customer experience and demonstration of value in every touchpoint. This alignment helps to improve buyer confidence and stage-by-stage conversion rates
"Not surprisingly, enabling sales and marketing teams to create engagement based on the needs of specific buyers at targeted accounts results in an incredibly efficient funnel," added Rosenberg. "Gartner research shows that 48% of organizations using ABS experienced a higher average win rate."
Ultimately an account-based strategy has proven to improve customer lifetime value (80%), improve win rates (86%) and deliver higher ROI (76%) when compared to a traditional go-to-market approach.
Download eBook: The Future of Sales
3 pillars of account-based strategy
Leading B2B organizations are beginning to adopt a coordinated, cross-functional account-based strategy, leveraging real-time data and technology, to be more timely and scalable in their go-to market. Sales organizations and their CSOs should focus on three key pillars that make up a successful account-based strategy — target, orchestrate and measure:
Target
The first and most tangible example is working together to build an effective ideal customer profile (ICP), resulting in the highest-priority accounts on the target account list. Gartner research shows that 81% of top-performing account-based organizations have confidence that their ICP accurately represents the attributes of ideal accounts.
Orchestrate
Successful orchestration in an account-based strategy leverages multiple channels and multiple functions to meet a specific objective for a specific list of target accounts. CSOs and their teams should follow three key steps in designing an orchestration plan.
First, identify the right mix of digital and human channels. Then bring those channels together to develop the orchestration plan, with marketing providing air cover and creating awareness before any outbound touches begin. Lastly, and most importantly, sales and marketing must work together to create a high-value offer (HVO). An HVO is an interaction, or meeting, that provides unique and timely business value that compels a prospect to engage or change.
Measure
An account-based strategy has a simple funnel, starting at the top with target accounts, which is fixed. In many non-account-based models, the focus is on tracking leads. The real metric is to focus on overall engagement, which will include leads but also deep consumption of content on one's website or attending a webinar.
This is followed by meeting creation for new programs and opportunities from target accounts, which will ultimately lead to closed/won accounts. CSOs should focus on tracking three account-based metrics using this funnel — opportunity rate, target account pipeline and account win rate.