Organizations are increasingly looking to agile frameworks to manage costs while delivering value and agility effectively. Still, they need additional structure to coordinate agile teams and optimize their use.
Adopting an enterprise-level model like Scaled Agile Framework® (SAFe®)* lean portfolio management can help PPM leaders align their portfolios with strategic business outcomes and improve investment decisions across the portfolio. But SAFe® is a complex and multifaceted scaling framework, and successful implementation requires commitment from program and portfolio management leaders.
Download eBook: Top Priorities for PPM Leaders in 2021
Recent research by Gartner Senior Director Analyst Lorri Callahan and Distinguished VP Analyst Robert Handler guides an enterprise program management office (EPMO) or PMO operating in an organization that is adopting SAFe® lean portfolio management (LPM) competency.
This article recaps the key points, edited for clarity and length.
Step 1: Define the lean portfolio management function
The focus areas of the LPM function include strategy and investment planning, lean governance and agile operations. PPM leaders should identify the right talent for each focus area, having the respective expertise in:
Ensuring the entire portfolio is aligned and funded to meet business targets.
Coordinating and supporting decentralized program execution.
Overseeing spending, audit and compliance, and forecasting expenses.
They can ensure that the agile program management office (APMO) has an in-depth understanding of agile philosophies, core SAFe® terms, LPM events, and traditional PMO services such as data collection, analysis, reporting, etc. A well-trained APMO can make knowledge-sharing more collaborative and fruitful.
Step 2: Establish a Portfolio Kanban
The Scaled Agile Framework® (SAFe®) encourages the "build-measure-learn" approach to accelerate agile development. It focuses on "Epics" — building blocks that capture the longest story arc of a portfolio. In other words, they capture the large-scale or significant investments occurring within a portfolio.
Read more: Fuel Digital Business With Product Management
Portfolio Kanban for PPM leaders visualizes and manages the flow of Epics in an end-to-end fashion. Each Epic goes through different Portfolio Kanban states, and a designated owner defines the Epic's minimum viable product and oversees its progress from concept to completion.
Here we illustrate the approach to implementing a Portfolio Kanban system.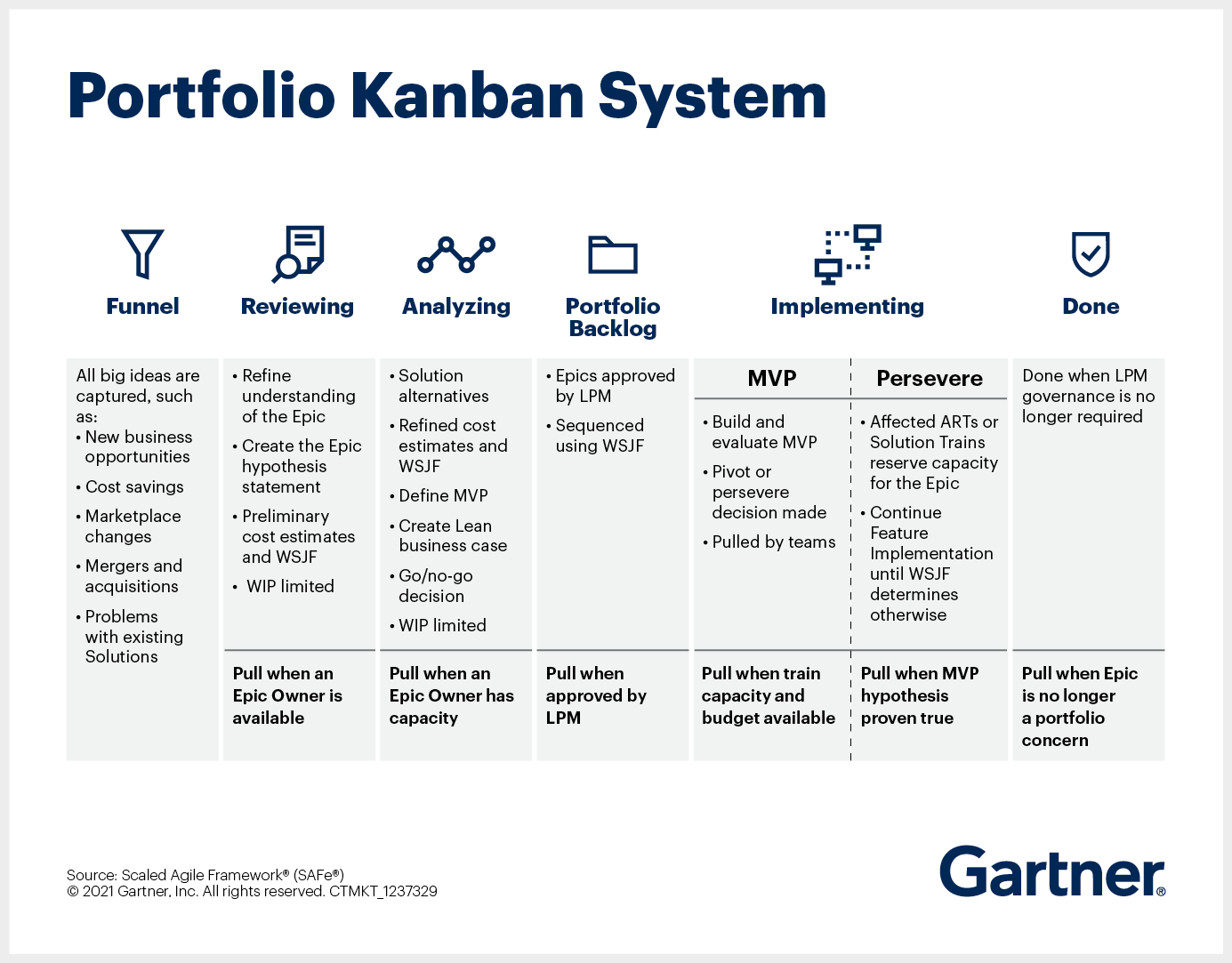 The first three states emphasize prioritization.
Funnel — It functions as a reservoir for ideas given by ARTs that address strategic concerns or have the potential to impact business models. Based on the strategic importance, forecast cost and other factors, the ideas go to Program or Portfolio Kanban's respective funnels for review and approval. As it is used only for brainstorming, there are no WIP limits.
Reviewing — Epic Owners and other stakeholders define the Epic's intent, qualitative and quantitative benefits, business outcomes and other nonfunctional requirements. Unlike the Funnel, WIP limits are specified for this state.
Analyzing — The promising Epics go through a round of careful analysis in this state. Business owners, solution architects and agile teams collaborate for this purpose to:

Identify solution alternatives
Define the minimum viable product
Establish cost estimates
Create a lean business case
Assess technical and business viability
Except for Funnel, it is essential to set WIP limits for every state for a value-driven Kanban system. PPM leaders can map their traditional portfolio management practices to the portfolio Kanban states. For example, they can map the work requests in the demand-intake process and under initial review to Reviewing.
Organizations, at times, include the mix of agile and waterfall processes in the Portfolio Kanban to make their heterogeneous portfolio visible across the board. Once this purpose is met, the portfolio is fixed afterward.
Read more: 5 Organizational Change Pitfalls PPM Leaders Should Avoid
Step 3: Set up regular LPM events
Like traditional portfolio management, LPM requires a set of events to establish a cadence for reviewing and prioritizing the proposed work.
Relevant stakeholders (essential, not merely interested parties) can attend these events and leverage the portfolio metrics and other insights provided by the APMO. Therefore, it is crucial to invest in developing a strong metrics capability.
LPM events can be broken down as follows:
Portfolio Sync: A monthly event to review the Portfolio Epics in different phases of the Portfolio Kanban, collect the metrics related to KPIs and address any interdependencies or bottlenecks.
Strategic Portfolio Review: A quarterly event to review the metrics collected in the monthly portfolio sync events and update:

The objectives and key results (OKRs) for the strategic themes
The Epics required to fulfill the portfolio vision
Investment guardrails and funding allocations to ARTs

Participatory Budgeting: A less-frequent event (e.g., twice an year) to determine investments across the portfolio.
* Note that many of the concepts and principles described herein are proprietary to Scaled Agile Framework® (SAFe®).