Zero-based budgeting (ZBB) offers HR leaders a highly business-driven way to generate and articulate their budget demands — an approach with significant benefits for budget holders across HR who must weigh new investment requirements, such as enabling remote work and ensuring employee health and safety, amid significant cost constraints.
HR leaders need a good way to advocate for spending on new initiatives, and defend pre-existing spending
As one chief human resources officer (CHRO) explained at a recent Gartner cohort of EMEA-based CHROs, "It almost feels like there's a constant refocus on what really matters." But while the zero-based budgeting approach can help to justify the expense of every HR functional item for a given time period, ZBB implementation requires both a mindset shift and deliberate actions within the budgeting process.
"HR leaders need a good way to advocate for spending on new initiatives, and defend pre-existing spending," says Matthias Graf, Senior Director Analyst, Gartner. "Otherwise, HR is likely to be underfunded on critical activities to support employee programs and attract and retain a skilled workforce."
Gartner Approach to Drive HR Cost Optimization
How to stay strategic even under pressure to cut costs.
Download Framework
Zero-based budgeting changes the way budgets are prepared
HR's strategic plan maps out how the function intends to drive organizational ambitions, but it's the budget that funds the chosen initiatives. As strategic planning processes become more streamlined and responsive to adaptive strategy, HR leaders need a high level of visibility into which spending adds value — and zero-based budgeting can provide that.
In the traditional budgeting process, HR budgets essentially include whatever spending was set in prior periods, plus or minus an allowance for growth or reduction. Added on is the projected spending needed for new initiatives. ZBB instead reverts the budget to zero, making no assumptions about which expenses are to be retained. The budget is then built from the ground up, assigning costs according to business priorities and outcomes.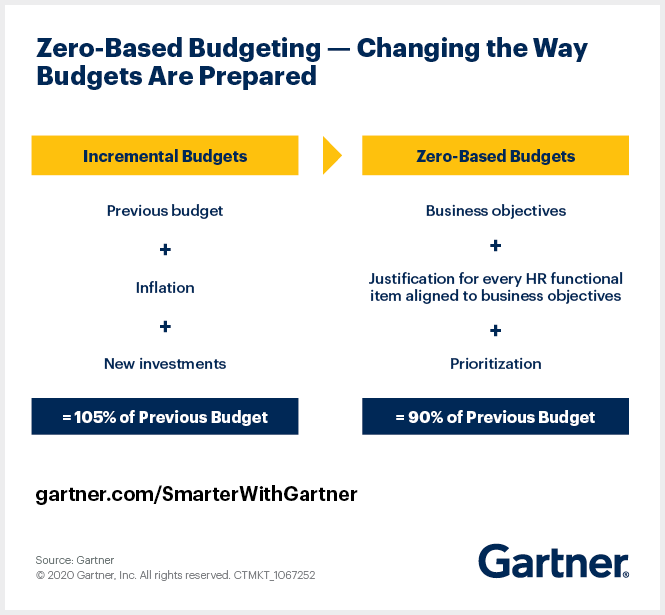 The objective is for you and your sub-function heads and managers to choose how and what to spend to fund the initiatives needed for HR to play its part in driving strategic objectives. It is an approach, not a methodology — one that initially side-steps the practical reality that many costs can't simply be wiped from the budget at the beginning of the next accounting period.
EMEA-based CHROs told the recent Gartner cohort that ZBB benefits HR at a time when HR leaders need to fund what's important to the function and the business. Regular collaboration among HR, finance, and business units and their leaders is key to surface any relevant data on key performance indicators from the business.
Make ZBB implementation more manageable
To make ZBB implementation easier, you can choose to zero-base only some budget items each year on a schedule that means you zero-base the entire budget every few years.
The average ZBB cycle time is 90 days, compared to an average of 94 days for driver-based and rolling-forecast-based models
What's also useful — according to the cohort of EMEA-based CHROs — is to use existing budgeting timelines so the deadlines to create zero-based budgets coincide with normal budget submission deadlines. Having a common budgeting calendar helps to rationalize budget review discussions, especially during selective implementation when some parts of the budget are being zero-based and others aren't.
"The fundamental questions for each item," says Graf, "are what the underlying value of each item is, and how it can help the organization thrive."
Contrary to popular belief, the cycle time for zero-based budgeting doesn't differ significantly from that of other budgeting models. Gartner research shows the average ZBB cycle time is 90 days, compared to an average of 94 days for driver-based and rolling-forecast-based models.
Shift mindset and action for zero-based budgeting
Three actions support the required shift in thinking and planning.
1. Think organizational priorities, not line items
Zero-based budgeting demands that every cost be justified for its criticality to meet organizational priorities. Therefore all stakeholders must be clear on what those priorities are — for the function and for the organization.
Even though the HR strategic plan should already specify the initiatives that HR will pursue to support enterprise strategy, it's still important to preface budget negotiations by emphasizing strategy, key metrics and assumptions to force budget holders to really focus on strategic alignment.
In practice, HR budget owners may struggle to dissociate from past spending decisions, and harbor biases that influence how and what they spend. This may make them less likely to change their spending — especially if it means a reduction. Help budget owners to overcome these biases by keeping the focus on strategic needs.
2. Pressure-test activities for strategic alignment before cost
To operationalize the mindset shift to organizational priorities from established budget line items, the budgeting process itself must incorporate a way — preferably using a standard set of criteria — to pressure-test spending for strategic alignment and eliminate only misaligned spend.
This type of rigorous approach makes sure to position zero-based budgeting as a value-maximization approach, not as a cost-cutting tool.
If costs are reduced during the process, it will be because budget holders agree on the need to cut wasteful and irrelevant spending so as to free up scarce resources and reallocate them to critical initiatives with strategic value.
Even when agreeing to cut costs, make sure to evaluate potential concomitant risks and determine if the cost savings really drive value. Focus in general on encouraging budget holders to develop more efficient ways of spending than in the past.
3. Create opportunities for managers to win back funds
One of the main reasons businesses struggle to zero-base budgets is the fear of losing forever the resources they are ceding for a specific year. This can prompt budget owners to inflate budgets, or skew them by concentrating expenditures under the most critical activities, which are less likely to be scrutinized during budget reviews.
One way to counter such defensive behaviors, and encourage budget holders to identify real cost savings, is to provide them with opportunities to win back funds from the pool of realized savings. Your budget decision makers can deploy such cost savings to fund new improvement initiatives or innovation projects, or even to reward managers who demonstrate the desired behaviors for the success of ZBB implementation.
Examples of such behaviors include:
Critically evaluating which activities should be performed at what level and frequency, and adjusting budgets accordingly.
Closely working together with leaders from finance and the business to identify and prioritize activities that drive business value.
Identifying alternative or new ways to perform activities more effectively through streamlining, standardizing, outsourcing or automating.
Sharing and driving the adoption of identified best practices among peers and other business leaders in the function and across the organization.
Directing freed-up resources to other parts of the function for funding new projects, e.g., remote work, health and safety, or business innovation.
Who Is Winning the Talent War?
See how HR leaders use data-driven insights to tackle key elements of talent strategy.
Download eBook