As global organizations move beyond pandemic response, it's time to focus on what will drive a thriving recovery phase. Our study of corporate performance in 2020 suggests that your approach to talent management investment will be key to your success.
The economic uncertainty created by the COVID-19 pandemic prompted most organizations to accelerate cost-containment strategies almost overnight. Many went ahead with difficult decisions to reduce budgets and spending and undertook employee cost reduction strategies, including layoffs. But some companies outperformed, and we wanted to know what lessons could be learned from their choices.
Gartner analyzed the 2020 earnings-call transcripts of S&P 500 companies to identify themes and differences in how these organizations experienced and managed the impact of the pandemic. The results show that successful organizations preserved workforce savings early but also funded smart talent investment opportunities.
Winners balance talent investments and cost savings
Timing is essential in moments of disruption. Gartner analysis reveals S&P 500 companies that balanced prompt employee cost-reduction initiatives with targeted talent investments outpaced organizations that solely focused on cost reduction during much of the pandemic and ended the year with stronger revenue growth — suggesting a solid foundation for a sustained recovery. In short, successful organizations did not target easy cost cuts to improve performance metrics in the short term. Instead, they optimized costs and funded new investments where others solely focused on making reactive cost reductions.
Gartner research shows the balance between cost savings and bold investment opportunities is vital for delivering long-term value.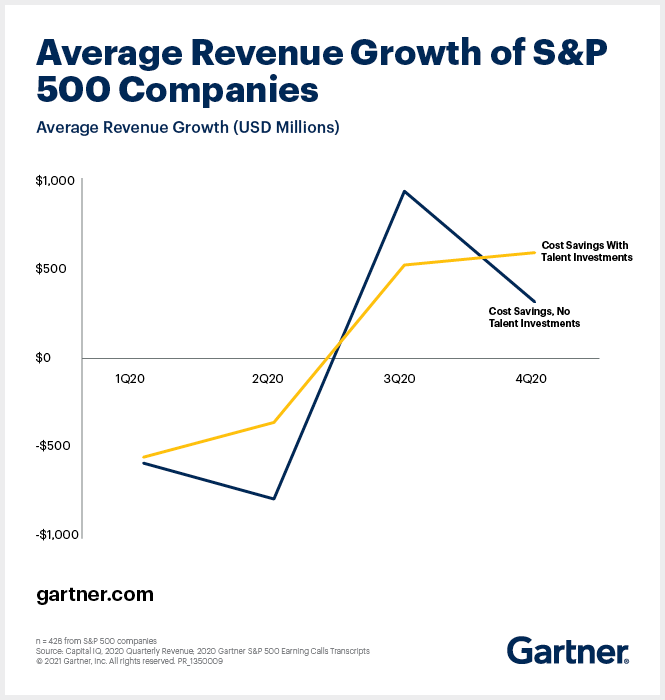 Employee benefits and well-being are top investment areas
Talent investments are a key lever designed to protect an organization's long-term growth capabilities, and 48% of S&P 500 companies funded at least one talent investment opportunity during the turbulence of 2020. We saw a particular emphasis on two areas: employee benefits and employee well-being.
Employee benefits were the most mentioned of the talent investments in earnings calls — and mentioned almost five times more than before the pandemic.
This is consistent with other Gartner research, showing that organizations can boost employee discretionary effort by 21% by providing holistic well-being support. That's twice as much impact as companies that provide only traditional (physical and financial) programs.
Talent investment remains critical for recovery
Looking ahead, leaders would be wise to remember that supporting employees during times of disruption is not just good for employees, but also good for business.
Read more: Priorities in HR Function Budgets Are Likely to Keep Shifting in 2021
Employee cost-reduction strategies were most common and aggressive in the first half of 2020, but only a few S&P 500 companies reported workforce cost saving measures in 3Q20 and 4Q20. Now it's time for HR leaders to identify talent investment opportunities centered on supporting employee engagement.
Failing to invest in employees now could risk a decline in discretionary effort and/or intent to stay at the very time that you need employees to drive your post-COVID-19 economic recovery.