Diversity, equity and inclusion (DEI) has never been more important to CEOs, shareholders, employees and customers. However, finance may find that aspects of diversity deteriorated while it was busy handling the COVID-19 crisis.
Corporate finance and accounting performed poorly in a number of key DEI metrics in a Gartner labor market survey taken in 2Q20. Results revealed that people of color make up just 11% of the total workforce in corporate finance, and just 6% of senior finance roles. This is 6 percentage points lower than the average corporate department.
Learn more: Gartner CFO & Finance Conference
"Finance's DEI underperformance isn't just a hiring problem to manage via HR," says Kotei Kotey, Principal, Advisory, Gartner. "Finance leaders have a direct impact on this issue not only in managing their own function, but also through the extent to which they prioritize funding for corporate-level DEI initiatives."
Reduce bias in hiring
Here's how finance leaders can help improve diversity recruiting and reduce bias:
Evaluate current talent pools: Ask the HRBP to assess the sourcing channels to prioritize the most effective channels for sourcing diverse candidates.
Explore nontraditional talent pools: Finance should engage with diverse employees or diversity affinity groups within the organization to understand their job-search behavior and to identify untapped recruiting channels.
Focus on skills: Remove information about job applicants' identities (degrees, financial certifications, age, years of employment) and only look at them after each person in the hiring process has reviewed the skills information.
Multiple reviews: Have multiple finance employees review the applicant independently before sharing findings in a group setting. Group settings where people voice their opinions reduce the amount of biased opinions shared and create opportunities to challenge biases in the moment. Don't send notes around beforehand, which can cause "groupthink."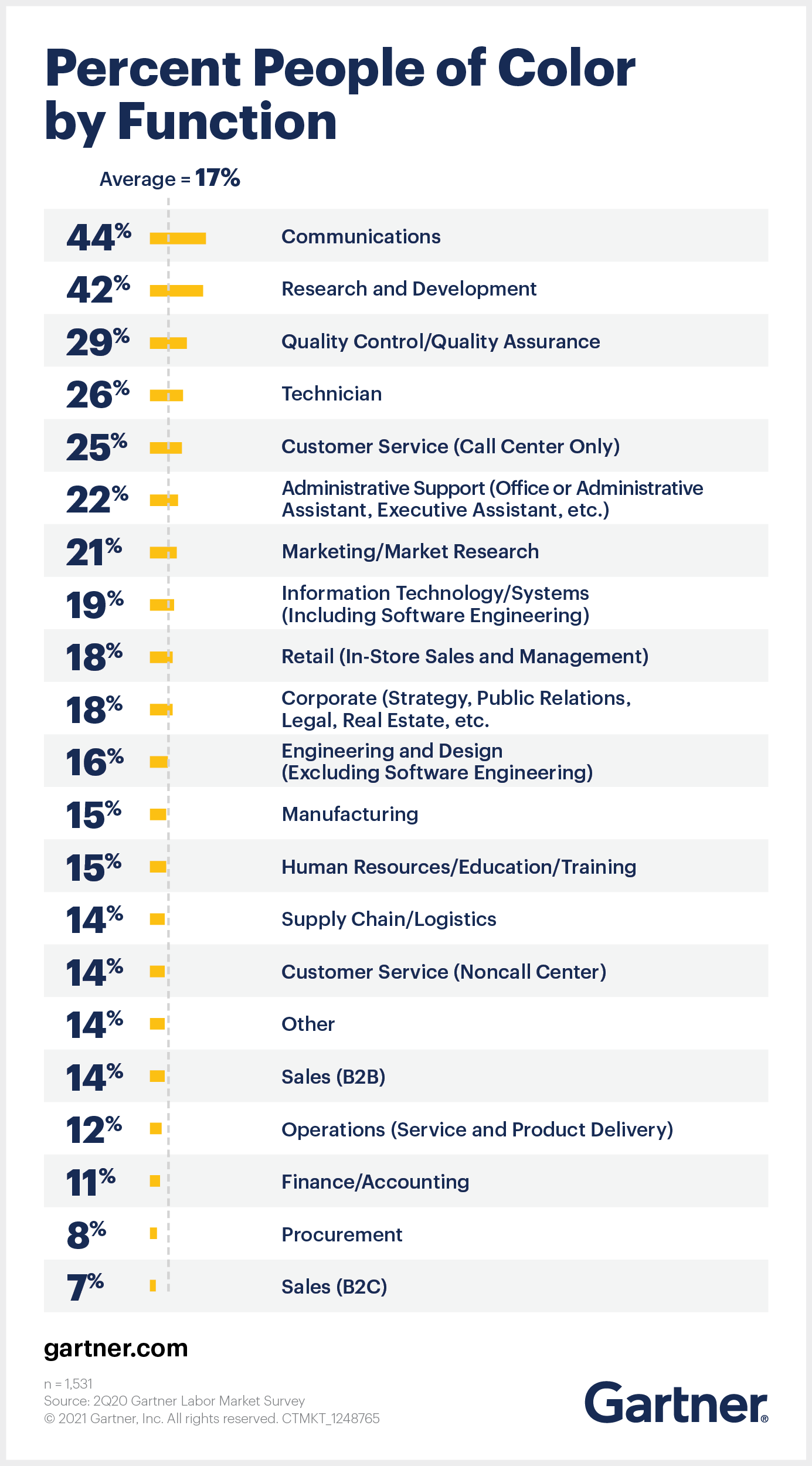 Remove organizational barriers to advancing diverse talent in finance
Compared to all other departments, finance performed better in hiring women, with 52% of employees being female, significantly higher than the average of 42% for all departments. But there is still room to improve here, as the performance dropped off when it came to senior roles. Women made up nearly 60% of junior roles but only 40% of senior positions.
Connect junior employees with more senior mentors from similar backgrounds.
"There needs to be a plan for advancing women and people of color to higher level roles," says Kotey. "One of the best ways to do this is to connect junior employees with more senior mentors from similar backgrounds. This is why it is doubly critical to show clear pathways for advancement to diverse candidates, so there are senior-level mentors to offer to junior candidates."
Download guide: Leading the Next-Generation Finance Workforce
Gartner experts also recommend these steps to build clear career path clarity for diverse candidates:
Develop and communicate plan: Clearly outline the steps required to advance within the finance department. Try to identify and address any steps that appear to cause a drop-off in the talent pipeline for diverse candidates
Encourage lateral movement: Try to build a culture of lateral movement and encourage employees to find opportunities within the organization, and crucially, provide adequate financial compensation to make this realistic for all candidates.
Guide senior leaders: Set out clear guidelines for managers to make sure they are properly communicating roles and opportunities to all employees equally.