Ever since the onset of COVID-19, technology has become even more essential in responding to uncertainty and creating a more adaptive, agile and composable organization.
In fact, Gartner research reveals that even amid the current cost constrained environment, where one-third of HR leaders plan for budget cuts this year, 90% still plan to either maintain or increase their investment in technology.
"In a remote and hybrid work setting, technology continues to have even more of a direct impact on the day-to-day work of employees and how they collaborate with each other," says David Cearley, Distinguished VP Analyst, Gartner. "Yet it is becoming increasingly important for HR leaders to plan for their technology investments with more caution than in years past, taking into account issues such as privacy and ethical concerns with the increased use of technology."
Learn more: HR Technology Strategy and Selection
According to the Gartner 2021 HR Leaders Agenda Poll survey, 48% of chief human resources officers (CHROs) stated that their current HR technology solutions hinder, rather than improve, employee experience.
Additionally, 24% CHROs said that they struggle to fully understand how evolving technology trends (such as artificial intelligence [AI] or virtual reality) will impact talent management processes.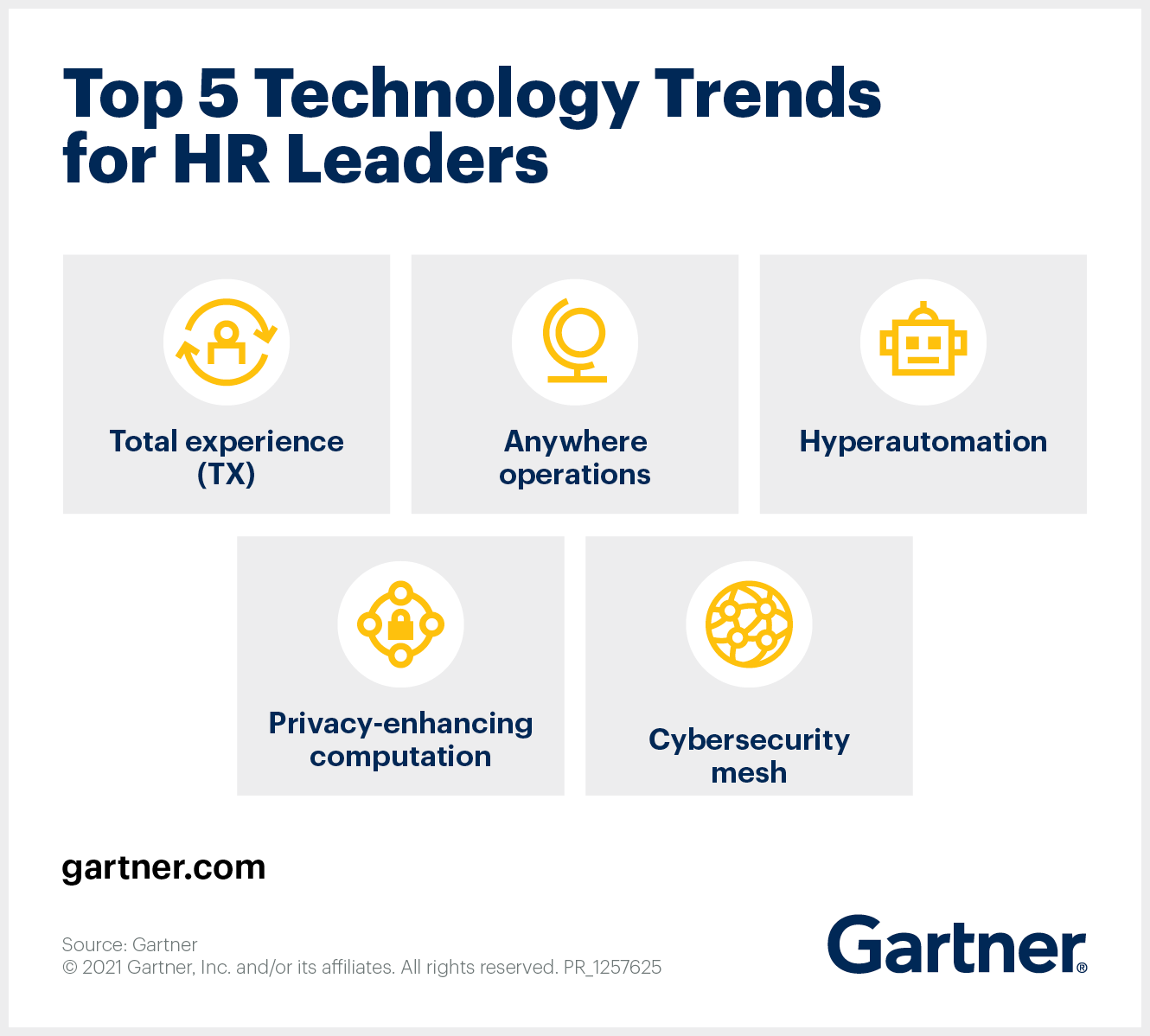 Gartner has identified five trends that HR leaders must evaluate and embrace to advance their multiyear strategic technology planning process:
1. Total experience
Organizations need a total experience (TX) strategy as interactions become more mobile, virtual and distributed. Simply put, TX strives to improve or create superior shared experiences by interlinking the multiexperience (MX), customer experience (CX), employee experience (EX) and user experience (UX) disciplines. MX, for example, focuses on creating a computing environment that spans multiple devices such as phones, laptops, screens, cameras and microphones.
This environment gives way to smart spaces — smart office, smart factory, smart city, etc. — that enable employees to interact with all these devices around them in a singular integrated experience.
"TX is about more than improving the experience of one employee or the use of one device — it improves experiences at the intersection of multiple constituents, leverages multiple devices that surround these constituencies and removes silos," Cearley adds. "As a result, TX creates business advantages and resiliency in the digital experience economy."
Furthermore, in the modern workplace, employees expect flexibility and control, especially frontline employees who interact directly with customers on a regular basis. By identifying moments of a shared experience in the employee and customer journey, HR leaders can better strategize how to create a great shared digital experience for both employees and customers, leading to transformational business outcomes.
User advice: HR leaders should start by understanding and internalizing the underlying principles of TX. In addition, HR leaders should set up communities of practice or fusion teams to identify points of intersectionality between the employee experience and customer experience journey maps.
2. Anywhere operations
Anywhere operations describes a business operating model designed to reach customers anywhere, enable employees anywhere and use digital technologies to deliver business services anywhere.
This type of technology challenges the conventional wisdom and understanding that it's necessary to be in a specific location — such as interacting face to face — to maximize value and efficiency.
Anywhere operations drives a new normal in which employees, contractors, business partners, customers and end consumers can be remote from each other. However, do not confuse anywhere operations with remote-only. Organizations will need to support a hybrid model through which employees and customers can flow through various locations ranging from remote to traditional concentrated facilities such as an office, factory or retail setting.
A digital-first, location-independent mindset is a prerequisite to anywhere operations
User advice: HR leaders can invest in digital experience monitoring tools that provide real-time insight into application performance and employee experience. These tools gather operational metrics from a user's device and proactively generate an alert to indicate performance bottlenecks as well as detect the gap between expected and perceived user experience.
3. Hyperautomation
Hyperautomation is the idea that anything that can be automated in an organization should be automated. It combines technologies like AI, machine learning and robotic process automation (RPA) to drive efficiencies.
Although the concept of hyperautomation has been adopted in some HR use cases such as payroll, recruitment operations and service management, HR leaders should expand hyperautomation across various HR functions.
"Hyperautomation provides tremendous opportunity to improve HR efficiency and reliability, particularly across transactions and workflows that are subject to errors, bottlenecks and delays," explains Cearley. "Right now, HR processes at many organizations are supported by a patchwork of technologies that are not lean, optimized, connected or explicit."
User advice: HR leaders must first think about hyperautomation use cases for human capital management (HCM) more broadly than those already in play. Leaders must work to create an automation journey across all HCM processes to identify areas where optimization and automation can reduce hand-offs and labor costs.
4. Privacy-enhancing computation
Privacy-enhancing computation enables organizations to process, analyze and share data without having to expose the underlying data or algorithms. This will become increasingly important to HR as employee data usage and privacy regulations mature.
HR leaders have a regulatory and ethical responsibility to keep all employee-related information secure. HR can encrypt this data and use privacy enhancing-computation to enable access of this information to both internal and external constituencies. This way, HR can ensure that employee data is always kept secure and private but will allow analytics as appropriate on that data.
User advice: Organizations should review their current data privacy policies through the lens of employee advocacy to ensure they are delivering on their privacy promise. Also, HR leaders should identify the use cases where highly sensitive HR data is frequently being shared across department, organization and regional borders. For example, common use cases are in talent analytics, where employee data may be accessible outside the HR department to business or central analytics teams, as well as in sharing employee payroll and health data with compensation and benefit providers.
5. Cybersecurity mesh
As work gets distributed across locations and devices, more people, assets and devices are now located outside the traditional "walls" of an organization. The cybersecurity mesh is a modular and scalable approach that enables any person or device to securely access and use any digital asset, no matter where either is located, while providing the necessary level of security.
In addition, with the more permanent adoption of remote and hybrid work models, employees and their devices continue to lie outside the traditional security perimeter of their physical office space.
To enable this new reality of anywhere operations, organizations need to adopt a new security model that defines the security perimeter around the identity of a person or thing, rather than the traditional office space or network.
User advice: To be successful, HR leaders must work with IT to implement an adaptive access policy. Here, instead of giving a blanket access to certain employees, a dynamic determination of access policy occurs that is guided by threat signals based on user identity and device trust.
Read more: 9 Work Trends That HR Leaders Can't Ignore in 2021
HR leaders must start planning the introduction of new technologies within HR processes and existing applications. Ultimately, while there is existing hype around the top technology trends, HR leaders must seek to understand their own technology needs and capabilities. This means making decisions with different functions of their organization, and not in silos.