The effects of COVID-19 have left many program and portfolio management (PPM) leaders juggling a backlog of postponed investments and a slew of new requests — all within finite budgets. To evolve the strategy, PPM leaders must challenge current portfolio prioritization.
A zero-based approach provides the most transparent and defensible approach to reprioritize project portfolios in today's disrupted environment, especially as organizations shift or accelerate strategies, such as digital transformation.
Download eBook: Top Priorities for PPM Leaders in 2021
Recent research by Gartner Director Analyst Mbula Schoen and Managing Vice President Lee Weldon explains the challenges and opportunities of zero-based prioritization.
This article recaps the key points, edited for clarity and length.
Why zero-base portfolio prioritization?
Zero-based prioritization puts all initiatives — projects, programs, products or services — on hold and brings spending conceptually down to zero. This creates a fundamental change in mindset. Executives no longer need to justify why they're stopping an activity. Instead, with the portfolio now empty, they must justify why an activity should be allowed back into the portfolio.
Zero-based prioritization requires a heavy commitment of management time and attention, so use it as a one-off opportunity to reset your portfolio. Continue to use more traditional, continuous-planning practices to fine-tune your portfolio each year.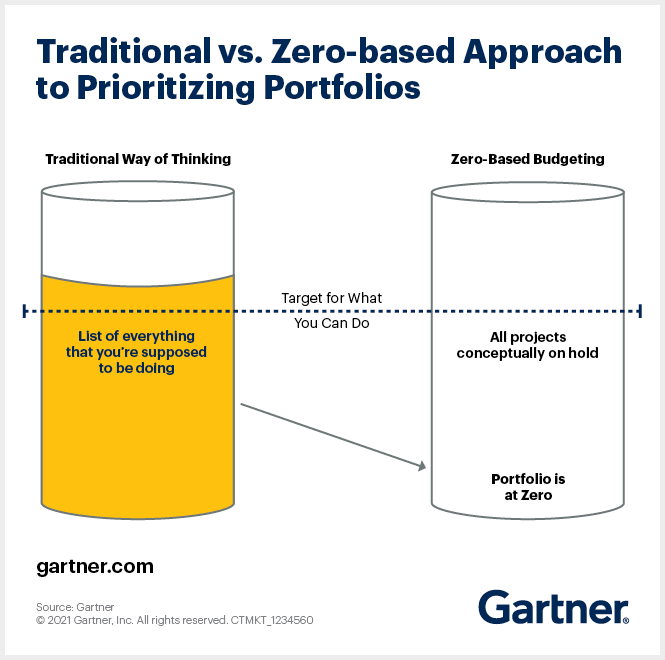 Five steps to successfully zero-base portfolio prioritization
Using zero-basing for portfolio prioritization is effective, but not necessarily pain-free. It requires an extra effort from PPM leaders to provide the requested information, as well as time and attention from decision makers to review the proposals. It is important to help stakeholders to understand what the ultimate goals are and how progress will be tracked and measured.
Gartner recommends that PPM leaders take five key steps when zero-basing portfolio prioritization.
No. 1: Identify the correct stakeholders and sponsors
This ensures that the portfolio links explicitly to business priorities. Communicate from the start why you're taking this approach and the expected outcomes.
Identify senior or executive business leaders who will sponsor this as a top-down business initiative and make sure stakeholders understand the challenges you face with the budget. You'll gain little buy-in for an extensive review of the portfolio if key decision makers feel there are many obvious places to cut costs and reprioritize activities. Ensure that key decision makers understand that the demand pipeline is still driving more requirements into an already full portfolio.
Read more: Fuel Digital Business With Product Management
No. 2: Use a framework for prioritizing initiatives
Before analyzing a portfolio, you'll need a framework that enables you to compare all new and existing projects in a similar way to assess their priority and business value. For example, segment projects into one of these categories:
Mandatory. These projects must be done. Typically, they comply with regulatory requirements or resolve an issue that would otherwise lead to significant loss of sales, delays in invoicing or delays in financial reporting.
Transformation. These projects build the future core competitive advantage of the organization. They must link explicitly with the organization's strategy and focus on creating new markets or business models.
Core differentiation. These projects build the capabilities that enable the organization to stand out in the market. Ensure that there's a clear understanding from decision makers of what belongs in this category.
Growth. These projects focus on growing the business within the current business models.
Improvement. These projects seek to deliver operational or capital efficiency. They also include projects that provide maintenance or basic improvements.
No. 3: Clear the portfolio of all current work efforts and new requests
Start the zero-based prioritization review process by clearing all existing projects and activities, as well as all demand that has already made its way into the portfolio. The process won't be effective otherwise.
Focus on the "to be" portfolio. Don't stop projects and activities that are already running — the budgeting process shouldn't interfere with ongoing execution. Decision makers take actions on what will stop, start and continue only after the zero-based prioritization process is complete.
No. 4: Build the portfolio back up
Add back work efforts based on their level of priority (as determined by your chosen classifications) until the agreed target is reached. For example, prioritize as follows:
Bring forward all mandatory projects and their associated costs. Ensure that decision makers agree on the reasons why you've classified each project as mandatory.
Add transformation projects, which are high priority for sustainable success.
Add core differentiation projects. Verify that each project does strengthen competitive advantage and isn't just 'nice to have.'
Add growth projects. Approve only growth priorities with measurable business value.
Add in remaining improvement projects, ranking in order of business case.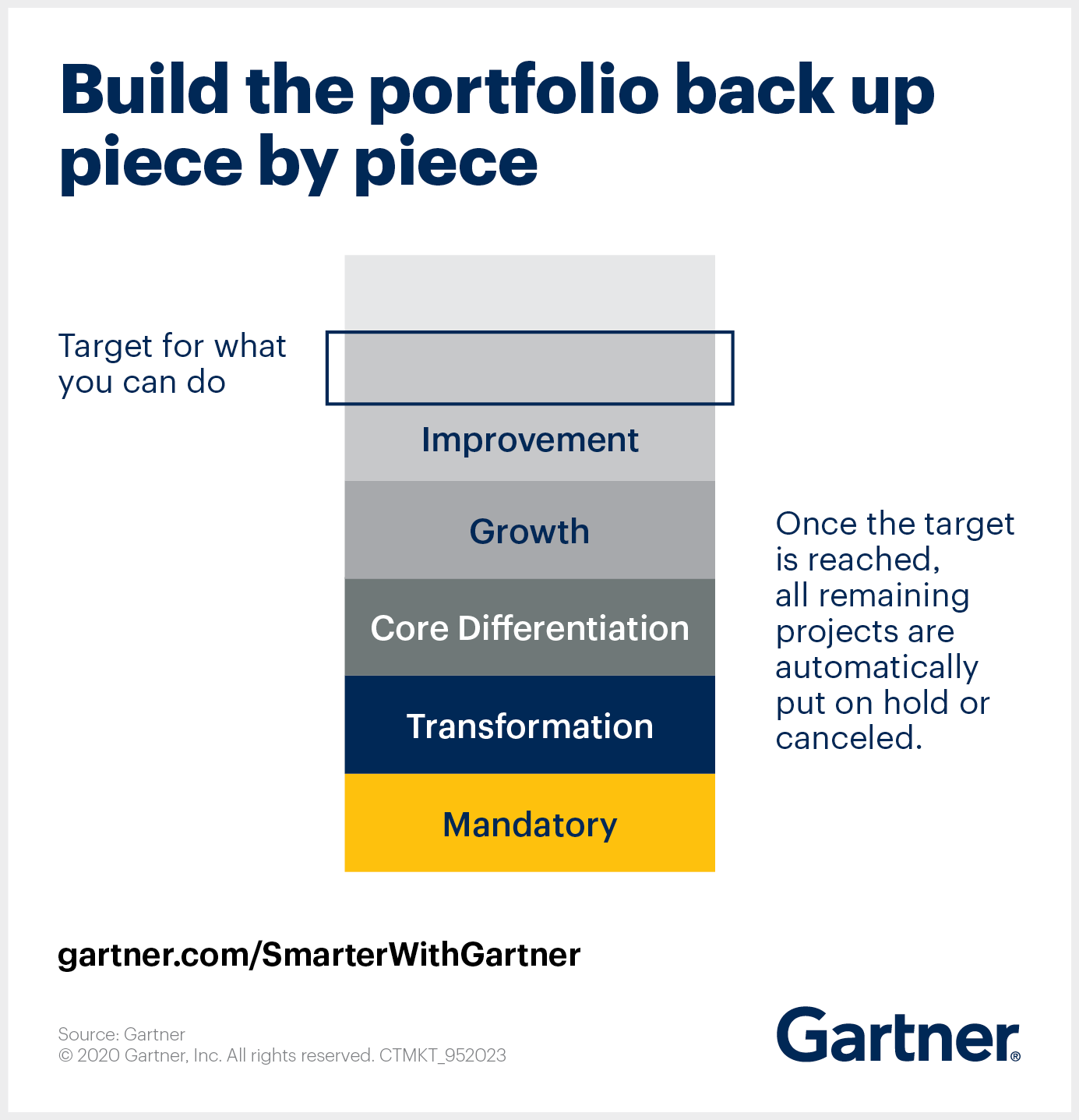 No. 5 Finalize by postponing or cutting all initiatives that didn't make the cut
Ideally, at this point, you will have captured all of the must-do activities in the portfolio. So the last decision-making stage focuses on selecting the best-value strategic or improvement projects that will make it into the final, approved portfolio.
Resolve any disputes by double-checking that all projects are correctly classified. In some cases, projects that don't make it into the final portfolio may still have strong pressure from their business sponsors to continue, but beware of attempts to shift spending from one area to another. It doesn't address the original challenge of reducing total spending.
Decide on zero-based portfolio prioritization for the longer term
Depending on your environment, you may want to consider extending this approach for more value in the decision-making process. Do so by creating two additional scenarios for your budget using zero-based prioritization:
Create a what-if plan based on 10% less of your target budget. Decide which additional projects you would need to cut to meet this stricter target.
Create a plan for exceeding the target by 10%. This will enable you to identify the projects that are next in line, in case circumstances change. It will also enable you to communicate the additional value that would come with an increase in investment to your business stakeholders.
This article has been updated from the May 2020 original to reflect new events, conditions or research.