The first recipients have received an initial dose of the COVID-19 vaccine, and optimism is high that an end to the pandemic is in sight. But business leaders — from the CEO and the CFO to HR, legal, IT and corporate communications executives — still need an agile, decisive and data-driven strategy to navigate what could be an extended and volatile period while vaccines are distributed and administered.
The complexities of vaccine management mean we will be in this together well into 2022
The issues that affect vaccine policy are multi-layered and complex, with information changing almost daily. Healthcare providers are inoculating their first patients at the same time that COVID-19 is surging, stressing healthcare systems and closing some economies. There's no time to lose. Leaders urgently need to set organizational direction with adaptive strategies.
Guide to Scenario Planning for Functional Leaders
When and how to look to the future to make decisions today.
Download eBook
Now is the time to engage in scenario planning to include multiple timelines, options and partnerships. Gartner's early work crafting those plans with board-level executives has prioritized these key questions and provides insights shared at the time.
No. 1: What is the current state of play and evolving landscape?
A mass vaccination effort requires close-knit integration of vaccine distribution and administration. Knowing how this rollout works helps to identify the potential risks, hurdles and possibilities.
Distribution encompasses activities by pharmaceutical and logistics companies to design, make and deliver vaccines; administration involves a fragmented set of providers that give vaccines to individuals, track their responses and adherence and monitor coverage at population levels.
There are information gaps regarding how much of which vaccines are available, for whom, in what locations, to be administered by what entities and when
Vaccine administration depends on vaccine distribution, but each involves a different set of actors — and capacity, funding and capabilities vary enormously among them. The disparity creates unevenness and information gaps regarding how much of which vaccines are available, for whom, in what locations, to be administered by what entities and when.
Information is also changing constantly. Leaders will need to refresh their knowledge weekly, if not daily, and revise their plans and expectations as they get new information from reliable sources of information, like the U.S. Centers for Disease Control and other government sources.
Two things we know: 1) Demand currently exceeds supply and likely will into 2021 and 2) the complexities of vaccine management mean it will remain a major public health and economic driver in 2021 — and into 2022 in some parts of the world.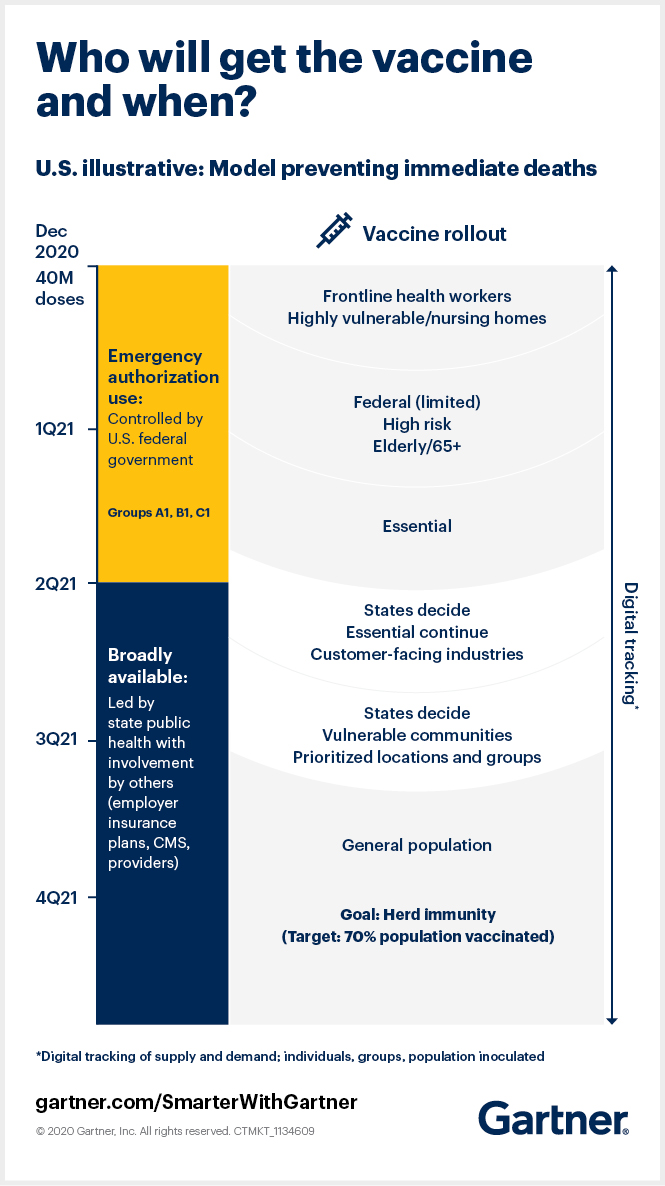 No. 2: What does the COVID-19 vaccine mean for my organization?
Two issues are top of mind for executives trying to assess what the availability of vaccines means for their organization:
What recommendations and policies should we establish around employee immunization?
What opportunities could our vaccine approach allow us to capture by acting quickly?
Executive leaders need to use the best information available to develop and communicate a consistent position on employee vaccinations, and determine (and articulate) what role their company will play in providing and paying for them.
That position must include a plan to manage policy compliance and build new relationships with local departments of health, suppliers and other key actors. Including a communications "campaign" as part of the strategy will ensure employees are educated about the vaccine, what you require them to do and how they can do it.
Organizations with a clear and adaptive plan will also be in a stronger position to lock in partnerships for vaccine distribution
There is no single organizational vaccine response plan. The "right fit" will depend on industry, geographic location(s), healthcare supply chains, government policies and other variables. Healthcare, education, food production and other high-interaction industries might mandate vaccines as a matter of employee safety; others might feel less need to do so.
The benefits of deciding quickly and communicating clearly will emerge on multiple fronts with safety and well-being first and foremost. You'll gain an advantage in the battle for talent, as an engaged and loyal workforce will be drawn to organizations that they see as taking sincere and competent steps to protect and support them and their families.
Organizations with a clear and adaptive plan will also be in a stronger position to lock in partnerships for vaccine distribution or data collection — resources they may need for some time, as different industries recover at different speeds.
Read more: Will You Require Employees to Get a COVID-19 Vaccine?
No. 3: What impact will vaccines have on our return to the workplace?
Positive vaccine news — and what it could mean for society — has supplanted the "return to workplace" discussion, but the decision to return or not is no longer just about workplace safety. Most employees have proven to be just as productive working remotely as from an office, and both organizations and employees have made foundational changes.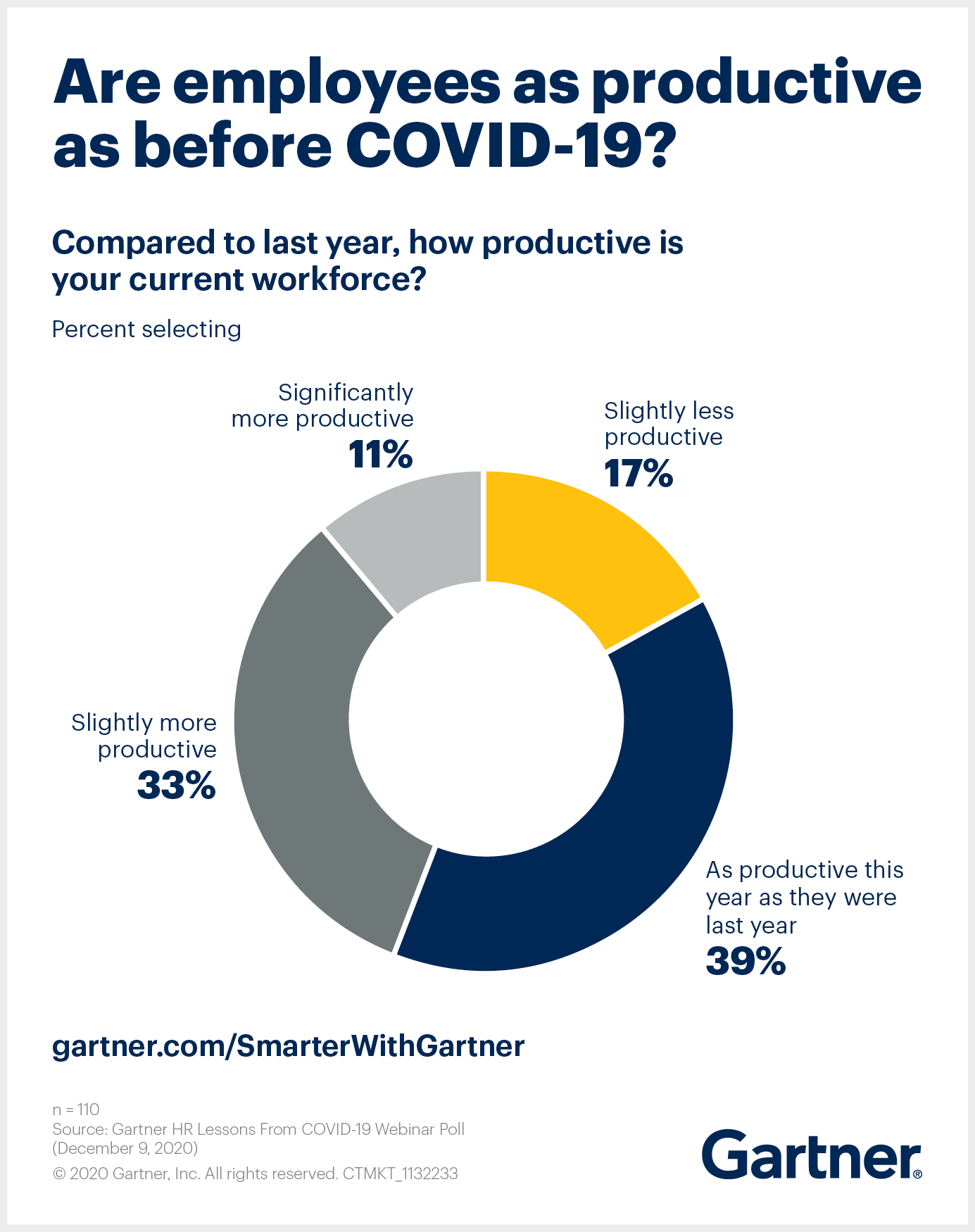 Spurred by necessity and enhanced through strategy, organizations have adapted their IT infrastructure, security and access policies to accommodate a more widely dispersed workforce. Some have reduced physical footprints, made location-based compensation adjustments and shifted recruitment to source talent from anywhere in the expectation that more employees will continue to work from home at least some of the time. Most are adapting to the differing demands of managing a distributed workforce for maximum impact and helping employees to be successful when remote.
In other words, hybrid workforce models have become part of the organizational fabric. The corporate position on returning to the workplace is thus no longer yes or no — it is about the rationale.
In vaccine planning, organizations should take a risk-costs-benefits approach in return-to-workplace scenario planning that includes health and safety. Additionally, as the organization's health and safety plan evolves, vaccine decisions and contingencies will need to be integrated.
No. 4: What health, safety and legal implications must we be aware of?
The heroic, global efforts to create and test working vaccines should be lauded, but we must recognize that speed often leaves gaps in our knowledge. Chief among them is what the vaccines protect against, and for how long. We need more, longer-term data to answer these questions, which suggests that workplace environments will need — possibly for a very extended period — to continue health and safety practices such as social distancing, masking, and contact tracing based on public health guidance.
The ongoing health and safety questions raise specific legal questions for executives: Is it legal to require employees to receive vaccines? To what extent can we gather and store data confirming that an employee received a vaccine? What liability and risks would we take on if we require (or for that matter, do not require) employees to be vaccinated?
It is critical that companies maintain a current understanding of the regulatory requirements in the jurisdictions in which they operate
Legal and compliance leaders should first focus on understanding what their organization must do. Government requirements are changing very rapidly, and some public health agencies will require citizens to get a vaccine, taking the decision out of the hands of the executive team. Consequently, it is critical that companies maintain a current understanding of the regulatory requirements in the jurisdictions in which they operate. Be prepared for the possibility that different offices and facilities may have different requirements.
Those requirements will provide context for conversations around what your organization should do, legally and ethically, based on your industry, what your brand stands for in the market, your corporate values, and your customer and employee bases. This information serves as another input for your corporate vaccine policy.
No. 5: What uncertainties continue to exist around vaccinations, and what impacts could they have?
Many questions remain about the timeline and availability of the COVID-19 vaccine, making for confusing times. Several countries locked in options for vaccine supplies during the development period. But in many cases supply is not nearly enough at present to vaccinate all frontline workers, let alone other high risk groups and those in essential businesses.
Leaders crave data to navigate uncertainty. Questions abound about whether companies will be able to procure and administer vaccines to their workers. Should global organizations consider social responsibility, establishing employee sponsored vaccination programs for employees and family members? Should a CEO mandate the vaccine?
The cold chain requirements for the Pfizer and Moderna vaccines are challenging for distribution, especially when approval moves from emergency authorization use in hospital and care settings to broad availability where administration will take place at various venues. These supply chain issues may or may not be overcome quickly, and other vaccines are likely to emerge with different requirements.
These uncertainties require flexibility. For example, organizations have to assume vaccine availability will vary to avoid encouraging workers to try and obtain vaccines that are unavailable or difficult to access.
Organizations should decide whether to implement a data rich 'systems' approach to events and resources to stay informed and drive their decision making. Crisis and vaccine management platform solutions and services exist on the market to provide data and insights for decision making. Some organizations have developed their own in-house systems. 
Keeping track of what is certain and taking a risk-benefit approach will help elevate uncertainties and, over time, eliminate them to evolve action plans.
Read more: 10 Vaccine Distribution Questions for Supply Chain Leaders