The risk of a global second wave of COVID-19 topped risks seen by senior executives in 3Q20. The results of the U.S. presidential election also featured in the top five emerging risks.
Risk management leaders are also taking the lead on a set of new issues created by the pandemic
The Gartner Emerging Risks Survey captures and analyzes the opinions of senior executives in risk, audit, finance and compliance at leading companies. These executives also cited risks related to operating in a pandemic — from concerns over the soundness of new working models to managing remote talent.
6 Shifts GC Must Make by 2025
Discover how to build a more flexible, resilient legal department
Download Action Plan
"The largest implication for organizations planning around the second wave and related impacts is to ensure that they have not only adequate reentry plans, but also 're-exit' plans if the pandemic makes returning to physical office locations unsustainable," says Matt Shinkman, Practice Vice President, Gartner.
Leading firms are collaborating with their enterprise risk management (ERM) teams to establish clear protocols should positivity rates rise in their organization or communities.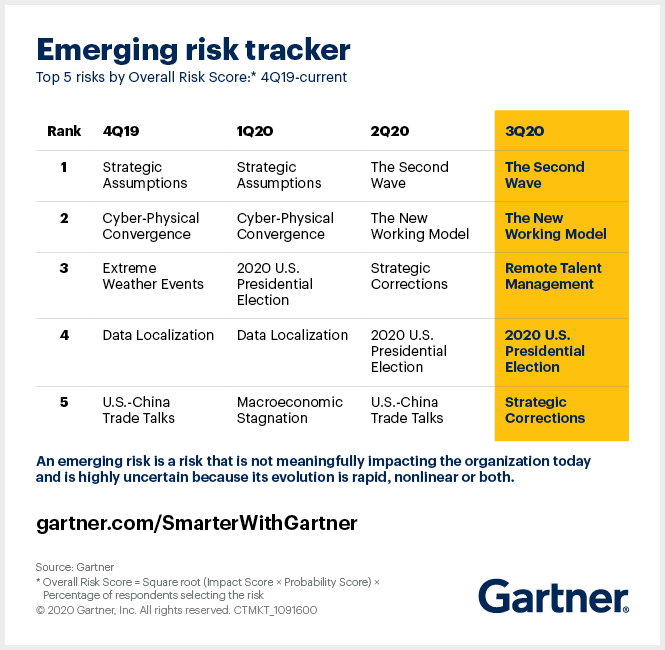 Gartner defines an emerging risk as one that is not materially impacting the organization today, and is highly uncertain because its evolution is rapid, nonlinear or both.
Many emerging risks relate to operating in a pandemic
Risk management leaders are also taking the lead on a set of new issues created by the pandemic, such as how to manage the risks of employee noncompliance with health and safety guidelines or other signs of organizational negligence.
Two other risks in the top five relate to how organizations can manage effectively in the face of ongoing and long-term disruptions from COVID-19.
The new working model. Progressive organizations realize they must go far beyond ensuring the health and safety of their employees to provide continuous guidance and support to soothe anxiety and support appropriate behaviors. Many employees returning to the workplace will be unsure of how to act. Risk managers should work with business partners and human resources to support on-site employees.
Managing remote employees. Risk managers have an entirely new universe of risks to account for in hybrid and fully remote work environments. This includes combating employee disengagement, managing new cybersecurity vulnerabilities, and reassessing how performance is managed and graded. It's vital for risk teams to have a seat at the table as new policies are being created and others rewritten by HR.
A final risk of note indicated by executives is the U.S. presidential election and related policy changes. Beyond its potential impacts on the management of the pandemic, organizations are concerned about planning for potentially significant policy shifts in areas that impact their business.
The best organizations in this area are proactive, in regular communication with policymakers on both sides of the aisle, and integrate political risk throughout their scenario-planning models.