The global pandemic adversely impacted raw materials availability, pricing and the ability to get products to market. Complex globalized supply chains remain fragile in the face of global disruptions. This challenges chief supply chain officers (CSCOs) to look for opportunities to improve raw materials availability and reduce uncertainty.
"The willingness to challenge and change that relationship is a step into the unknown," said Sarah Watt, Senior Director Analyst, Gartner, at the virtual Gartner Supply Chain Symposium/Xpo™ 2020, Americas. "It takes courage, as there are both risks and rewards. But that one step is crucial because our continued consumption of finite resources is simply unsustainable."
Guide: 6 Strategic Imperatives for Supply Chain Leaders
Drive supply chain agility by championing the circular economy.
Download Report
It's time for CSCOs to create what Gartner calls a future-fit raw materials approach. In other words, supply chain leaders should move away from the traditional linear consumption-based model to a circular economy strategy. The circular economy aims to decouple growth from raw materials consumption and is based on three tenets that support resilience:
Remove waste, complexity and toxicity from products for more effective end-of-life resource management.

Keep raw materials in use for as long as possible and at their highest quality.

Return materials into the environment with a positive impact.
"The move to a circular economy is the right move because it decouples material consumption from financial growth," said Watt. "The circular economy also has the potential to provide a new avenue of raw materials through end-of-life reprocessing."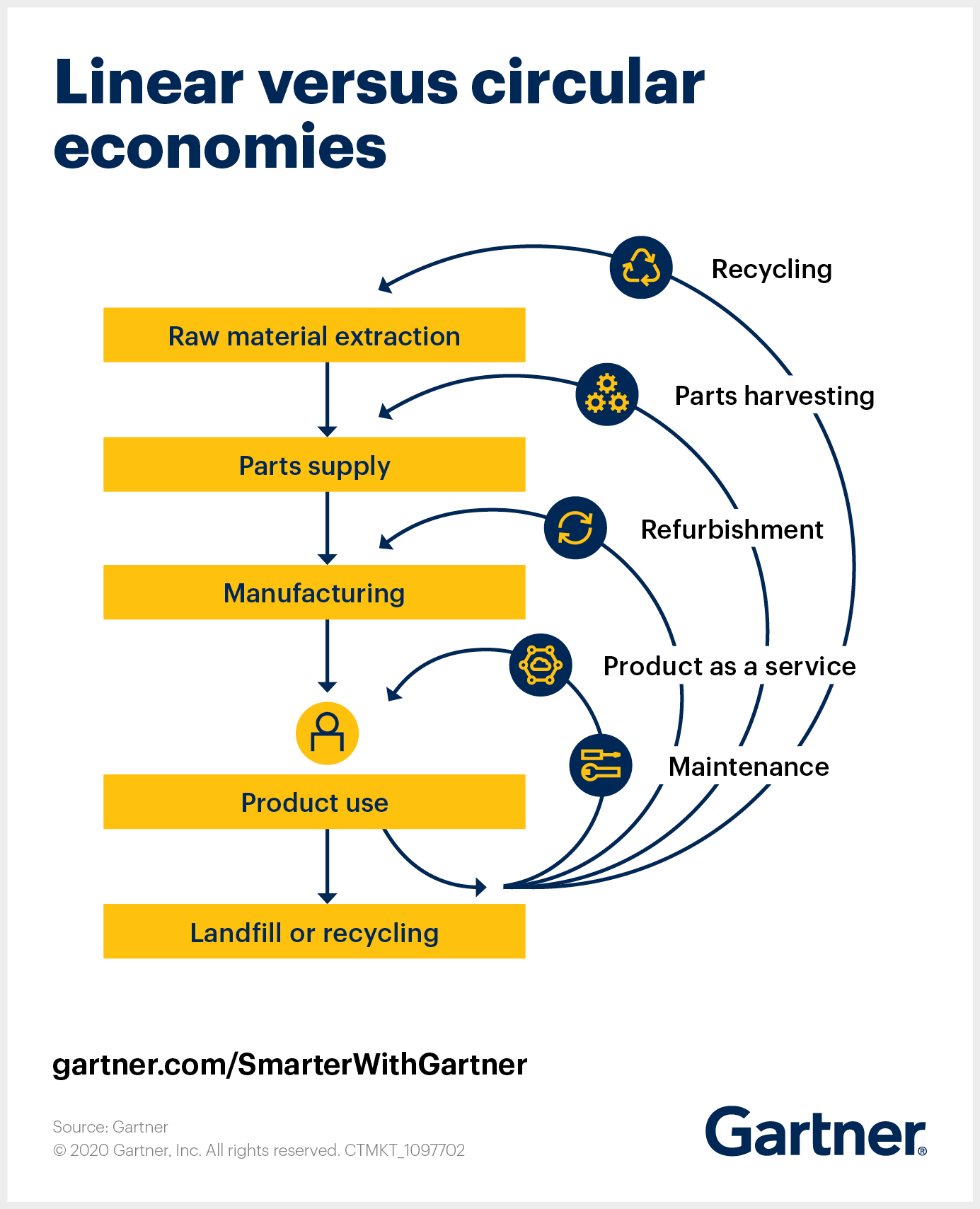 Engage customers and suppliers to boost raw materials resilience
Moving toward a circular economy is a complex, long-term journey that requires multiple actions on multiple fronts, as well as acceptance of some failures as part of the learning process. Yet the Gartner 2020 Opportunities After Crisis Survey found that 51% of supply chain professionals expect their focus on circular economy strategies to increase over the next two years.
To achieve success, ensure you have executive management buy-in, collaborative partnerships with a range of suppliers, and a commitment to product design that supports reprocessing and recycling. Then, consider how to employ these strategies within your organization:
Commit to the circular economy. Develop a long-term vision. Profile products that may be suitable candidates for raw materials refurbishment, parts harvesting or recycling. Use pilot projects to demonstrate success to senior leadership and win support to move more products on a circular path.
Engage with customers. Identify opportunities to retain control of materials by shifting to a product-as-a-service arrangement, such as leasing. When relying only on customer goodwill for product returns, make the returns process as easy as possible.
Scale through collaboration. Select and build an ecosystem of partners to enable access to and processing of end-of-life materials. Partnerships must be built on joint value creation and shared rewards. Start by collaborating with waste contractors to access end-of-life materials, reverse logistics providers to centralize these materials and raw materials suppliers to identify the best reprocessing routes.
Move beyond residual materials value. You'll need to balance and make trade-offs among residual material value, raw material price volatility, customer sentiment, and global and local regulation. Update these assessments periodically as the business landscape changes.
Participate in the design process. Supply chains must get involved earlier and more deeply in product design. Criteria for materials selection must include potential for end-of-life reprocessing and end-of-life environmental impacts. Engage with design teams to set circular design metrics.
Check the balance sheet. Assess the impact of moving toward a circular economy on the company's metrics. Holding materials for reprocessing may have a negative impact on working capital, but a positive one on raw materials security.
Gartner Supply Chain Symposium/ Xpo™
Objective insights, strategic advice and practical tools to help supply chain leaders achieve their most critical priorities
Learn More