Sixty-nine percent of board directors say that the effects of the COVID-19 pandemic are accelerating their digital business initiatives. The challenge for CFOs is how to fund digitalization and growth while maintaining control over their organization's finances — even when operating conditions remain highly volatile.
2021 is the year to pivot from discussions about the future to making real investments
This dual mandate for 2021 is clear in the priorities cited by CFOs, controllers, and heads of financial planning and analysis (FP&A) in Gartner year-end surveys. Finance leaders also noted that many of their priorities for 2021 will be time-consuming, and few will be easy to accomplish.
Attend webinar: The Top Priorities for CFOs and Finance Leaders in 2021
Top Priorities for Finance Leaders in 2021
Emerging trends and next steps for CFOs and finance leaders
Download Report
"CFOs have been asking more and more about artificial intelligence (AI), machine learning, robotics and advanced analytics," says Alex Bant, Chief of Research, Finance, Gartner. "2021 is the year to pivot from discussions about the future to making real investments, seeing short-term wins and cost off-set, and having a clear plan for the future."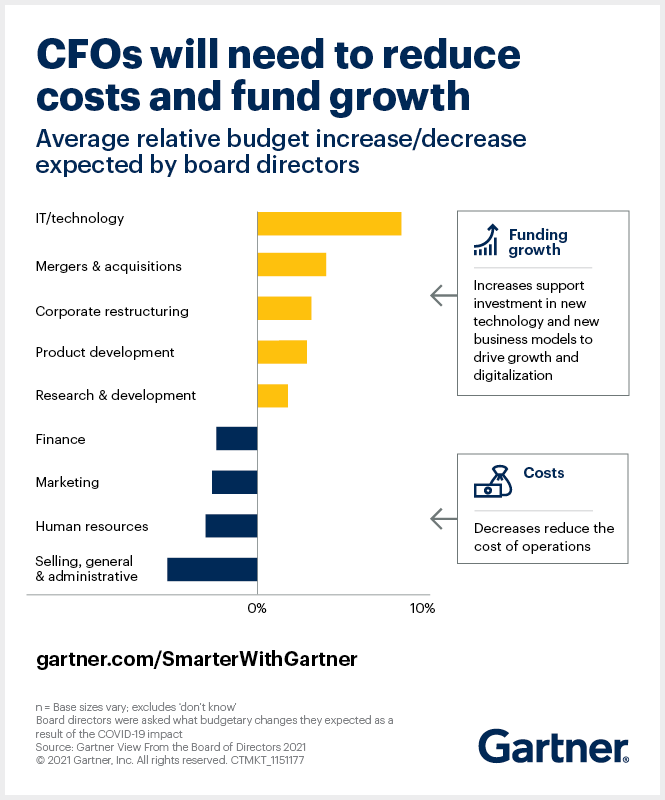 CFOs prioritize enterprise and finance-function digitalization
Four digitalization initiatives appeared among the top five priorities that CFOs expect to take more, or significantly more, time and to be difficult to achieve in 2021.
No. 1: Advanced data analytics technologies and tools in finance
Analytics has become a key driver of how value is created in most businesses, and the finance function is now drowning in data. CFOs will need to lead the finance function in expanding analytical capabilities, roles and processes and help business stakeholders to understand, interpret and use financial data to make sound operational decisions.
No. 2: Robotic process automation (RPA) and other workflow automation technologies
The use of RPA, the de facto automation choice for finance teams, has grown exponentially, delivering speed, efficiency and cost optimization. But RPA doesn't scale easily. CFOs now need to focus on additional technologies (including chatbots, artificial intelligence and machine learning) that cover increasingly complex, dynamic processes requiring human judgment.
No. 3: Accelerating digital skills
Developing digital skills is a prerequisite for finance leaders as organizations — and the finance function itself — accelerate adoption of digital technologies in the post-pandemic recovery. The first step for finance leaders is to identify relevant digital skills, especially those specific to employees' daily workflows.
No. 4: Enterprisewide digital investment review and governance
The growing diversity of investment projects — especially given digital acceleration — pushes more investments outside the scope of traditional capital budgeting methods. As a result, CFOs will need to rethink how to measure, fund and manage digital business performance.
Goals of controllers and heads of FP&A align with CFOs'
Controllers and heads of FP&A also expect to spend significantly more time in 2021 on critical digitalization goals — many of which are difficult to achieve. Deploying advanced data analytics technologies and tools remains a priority — but also a challenge — for both sets of leaders.
Controllers also expect to spend significantly more time and effort on automating management reporting and deploying artificial intelligence (AI) and other automation technologies. Tackling finance data storage and tools is also a priority and a challenge. But the functioning of their teams is also a concern, with the vast majority of controllers saying they expect to spend the same amount of time, or more, on employee engagement and retention (97%) and hiring and growing digital skills (89%) in 2021.
FP&A leaders have a diverse set of priorities, with many focused on the team's critical activities. Among the time-consuming but challenging initiatives high on their agenda are enabling self-service business intelligence and reporting and designing flexible, iterative forecasting processes. Improving business partnership skills is also key, with 74% of FP&A leaders saying this will take more, or significantly more, time in 2021.
Many FP&A leaders (66%) also expect to spend more time on scenario planning — a goal that 65% say will be somewhat or extremely difficult to achieve.