One VP of Sales recently told us, "The potential for cross-sell and portfolio expansion with our clients has never been higher, but we just can't seem to execute." It's an all-too-common refrain.
So what's the problem? Gartner research shows that chief sales officers (CSOs) and sales teams often assume — wrongly so — that customers who are highly satisfied with their current suppliers are naturally willing buyers of additional high-end, premium products and services. Although customer satisfaction does double the likelihood of repurchase and is a reasonable predictor of account attrition, it has no statistical effect on account growth.
Decision confidence increases the likelihood of a high-quality account growth purchase by 2.6 times.
We analyzed 1,100 B2B customers to get a detailed understanding of what drives continuing or expanding customer relationships with an existing supplier. We found that the strongest driver of account growth is the confidence customers have in themselves and their ability to make good buying decisions. Focus, then, on helping customers take that next bold action for their business in a confident manner — that's what drives incremental purchases.
Read more: Gartner Top CSO Priorities for 2020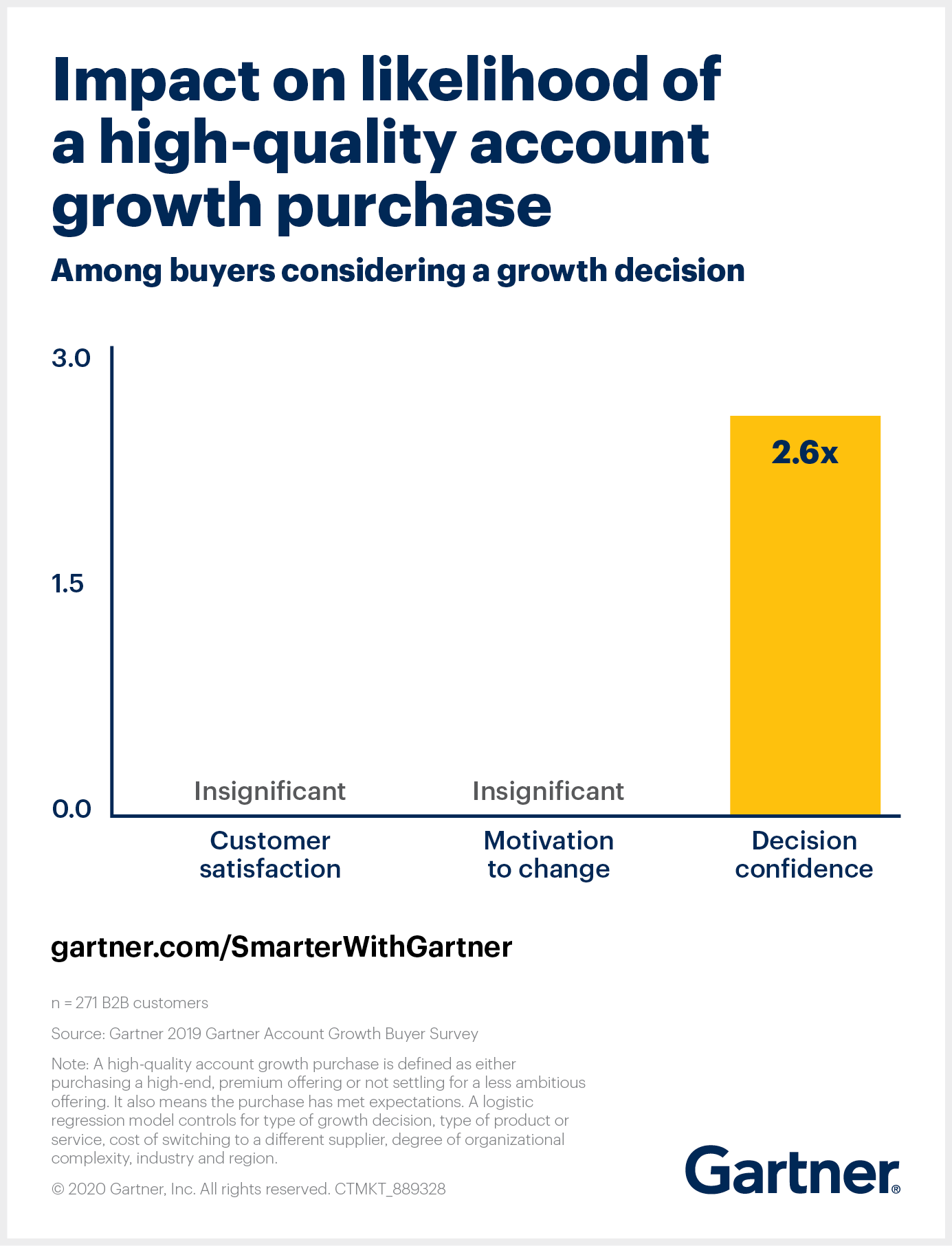 Know what drives account growth
B2B customers see a repurchase quite differently from an incremental purchase or expanded solution. A repurchase is a continuation of past decisions and represents the status quo. A growth decision represents organizational change — often requiring new capabilities, different processes, a new set of stakeholders and unanticipated complexity. This is true even when working with a trusted supplier, as the customer's own capabilities and ability to successfully navigate internal change management is called into question.
There's an old adage in sales suggesting that sellers target customers who are motivated to change. But the data clearly demonstrate that motivation doesn't result in a customer making a new purchase.
Customers may be motivated but unable to change for a variety of reasons. Buyers may find it hard to align diverse stakeholders and perspectives, lack prerequisite capabilities or face competing priorities.
Motivated customers also tend to be open to switching suppliers. More than three-quarters of B2B customers report that when addressing a new business need, they are just as likely to choose a new supplier as they are to stay with an existing one.
How to make customers confident
B2B buying decisions are complex in this era of high-quality but often confusing information, so customers need to feel confident that they are exercising sound judgment to commit to such major decisions. Few companies are keen to sign up for the disruption and risk they fear could accompany a new, significant purchase.
Ongoing research has confirmed that to drive account growth, sales organizations must shift from "helping customers buy" to "helping customers change." In doing so, the entire customer buying journey becomes an opportunity to create customer confidence.
The Sense Making approach that we introduced last year incorporates tactics for building organization capabilities — not exclusively seller skills or traits — that will boost customer confidence. Decision confidence works because it builds a bridge from status quo to change, helping customers feel capable of overcoming challenges as they believe in themselves, their logic, their process and their decision-making skills.
Learn more: The Sense Making Approach
The Future of Sales
Understand trends shaping future sales strategies, processes and resource allocation.

Download eBook
Map the customer buying journey
To best understand how to drive decision confidence, it's critical to first assess where customers most struggle with buying decisions. Don't just map a linear, lockstep buying journey process. It's not realistic, and you'll overlook some of the most challenging buying-decision moments, including decision setbacks, rescoping of the issue and new stakeholders entering the picture.
Align buyer enablement at key decision points
Once the buying journey is mapped, create or align buyer enablement. This flips the script and encourages sales organizations to take the internal guidance and best practices to drive deals forward and repurposes the content for customer use. Buyer-enablement assets include decision tools, interactive models, requirements builders, scorecards and ready-made presentations.
Learn more: Buyer enablement
Arm sales managers to train and coach their teams
A Sense Making sales approach requires investment and buy-in from sellers. Train and arm the salesforce with an ecosystem of buyer enablement. Continuously review and evolve opportunity plans, account plans and deal coaching to hypothesize and address likely points of customer skepticism and indecision.