For most of 2020, CEOs focused their energy and resources on their response to the COVID-19-bred business operations emergency. Those that could repurposed operations and supply chains to provide needed supplies and services: Clothing manufacturers made masks and PPE; chemical companies made hand sanitizer; transportation companies rerouted ships and airplanes to deliver ventilators. But now CEOs are looking ahead.
"CEOs are betting that mass vaccination programs will thwart the virus in many regions through the middle of 2021, leading to something of an economic boom," says Kristin Moyer, Distinguished VP Analyst, Gartner. "The majority have been anticipating a fast, sharp recovery and are already making moves to take advantage."
Download eBook: Sustain Your Digital Momentum
The 2021 Gartner CEO Survey captured responses from 465 business leaders from more than 30 countries. Conducted annually for more than 10 years, the CEO survey examines the business attitudes and priorities that are top of mind for business leaders.
Despite the severe disruption so many faced in 2020, the focus on growth remained unchanged from previous years, although with the following shifts.
Shift No. 1: CEOs look to new markets for growth opportunities
Sixty percent of CEOs expect their firm's revenue to be back to 2019 levels by the end of 2021, and another 30% expect resurgence by 2022. Only 10% think they will need longer to recover.
More than half of respondents are backing up that optimism by naming growth as a top three business priority. Fewer CEOs than last year, however, expect new opportunities to come through old mechanisms, like simple, incremental sales revenue growth.
They are instead looking to new markets as the source for opportunities — with the caveat that "new markets" appears to focus on segments or adjacent fields. Large geographic leaps aren't high on the agenda: The majority of leaders of North American, European and Asian companies name their own regions as their primary source of opportunities.
Shift No. 2: Workforce climbs the priority list; cost cutting falls
The pandemic also forced CEOs to place fresh emphasis on new areas and relinquish others. The workforce gained the most momentum, with 24% of CEOs naming it among their top three priorities, a 24% increase from last year. This rapid rise is a sign that CEOs acknowledge the toll that 2020 took on people and the role skilled talent will play in enabling organizations to meet their goals.
Among the biggest losers of CEO attention was cost management, which slipped to seventh place as a result of a 17% year-over-year drop in the share of CEOs who flagged it as a priority, from 14% to 11%.
View resources: The Future of Work Reinvented
This decline may be a result of the fact that the low-hanging-fruit was cut in 2020 to preserve cash during the pandemic; some firms had begun cutting as of late 2018 in response to anticipated, cyclical deceleration in the economy. Cost management isn't entirely off the agenda, however: It remains a top priority that CEOs are asking their COOs and CFOs to focus on.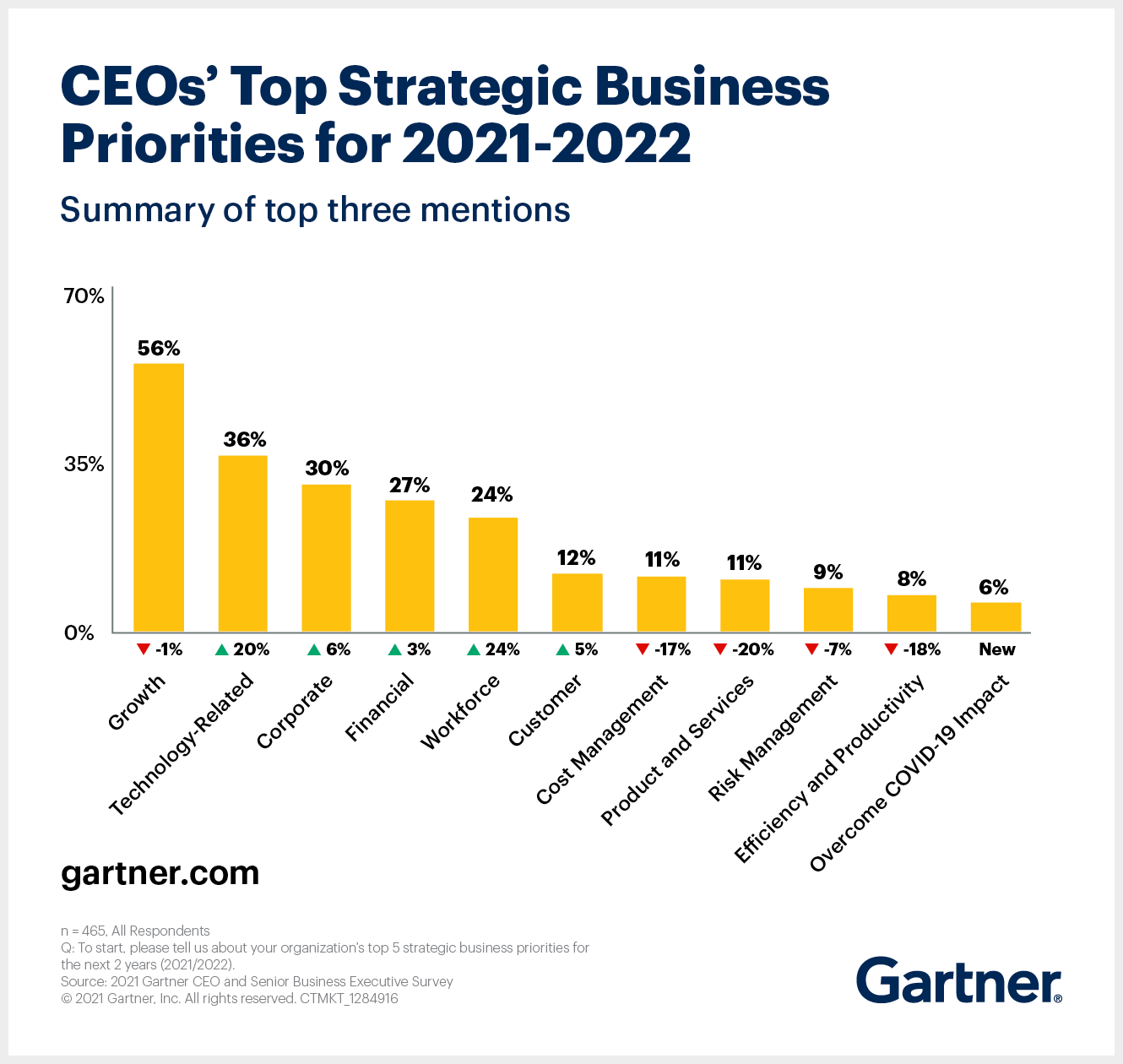 Download guide: Strategic Cost Optimization
Shift No. 3: Investment intentions point to digital growth ambitions
"Digital capabilities" was the only area in which a higher percentage of CEOs would commit to increasing investment. Even areas that typically garner strong support, such as information technology, people and culture, and product enhancements, drew commitments from a smaller share of CEOs.
Curiously, there was a mix of obvious choices and surprises in the areas that experienced the deepest plunges in investment intent. Property and facilities and capital equipment both saw steep drops, an early sign of the impact hybrid work models may have on facilities needs.
Read more: How to Sustain the Accelerated Pace of Digital Business Transformation
Yet legal, compliance and risk management, hiring and marketing also had significant declines — although Gartner analysts see no danger signs that firms are less prepared for an emergency or are hesitant to bring on talent if necessary.