Gartner research shows that organizations that were effective at cost management before the pandemic were more likely to see positive business performance during the crisis. What can we learn from what made these outperformers effective cost managers in the first place?
The research shows three key success factors: Consistent use of cost frameworks across functions, clearly defined measures of success and cross-functional collaboration on cost management. It's also clear that many organizations continue to underperform in these areas, despite the opportunities.
Download eBook: Driving Business Performance With Strategic Cost Optimization
"Executive leaders who build critical capabilities around cost management can capture a range of benefits," says Srinath Sampath, Senior Director Analyst, Gartner. "To do that, be intentional about standardizing the cost management frameworks used across different business functions and develop a community of practice with cross-functional representation around cost optimization strategies."
Use a cost management framework
A cost management framework is a set of cost categorizations that are formally used in budgeting, target setting and reporting on costs — and the research showed them to be critical to cost management success.
Organizations that used the same cost management framework consistently across functions were:
More likely to experience stronger cross-functional collaboration on cost management
Less likely to report a budget/cost cut in response to the COVID-19 pandemic
More likely to achieve their cost management goals prepandemic
Larger organizations are more likely to use cost management frameworks consistently. Out of global enterprises (revenue of $5 billion or more), 46% say their entire organization used the same cost management framework consistently. This number goes down to 33% for large enterprises (revenue in the range of $1 billion to less than $5 billion) and to 23% for midsize enterprises (revenue in the range of $250 million to less than $1 billion).
Using a consistent cost management framework across functions therefore seems like a significant driver of cost management success, and yet only 35% of the surveyed organizations do so. This should serve as a wakeup call for the rest.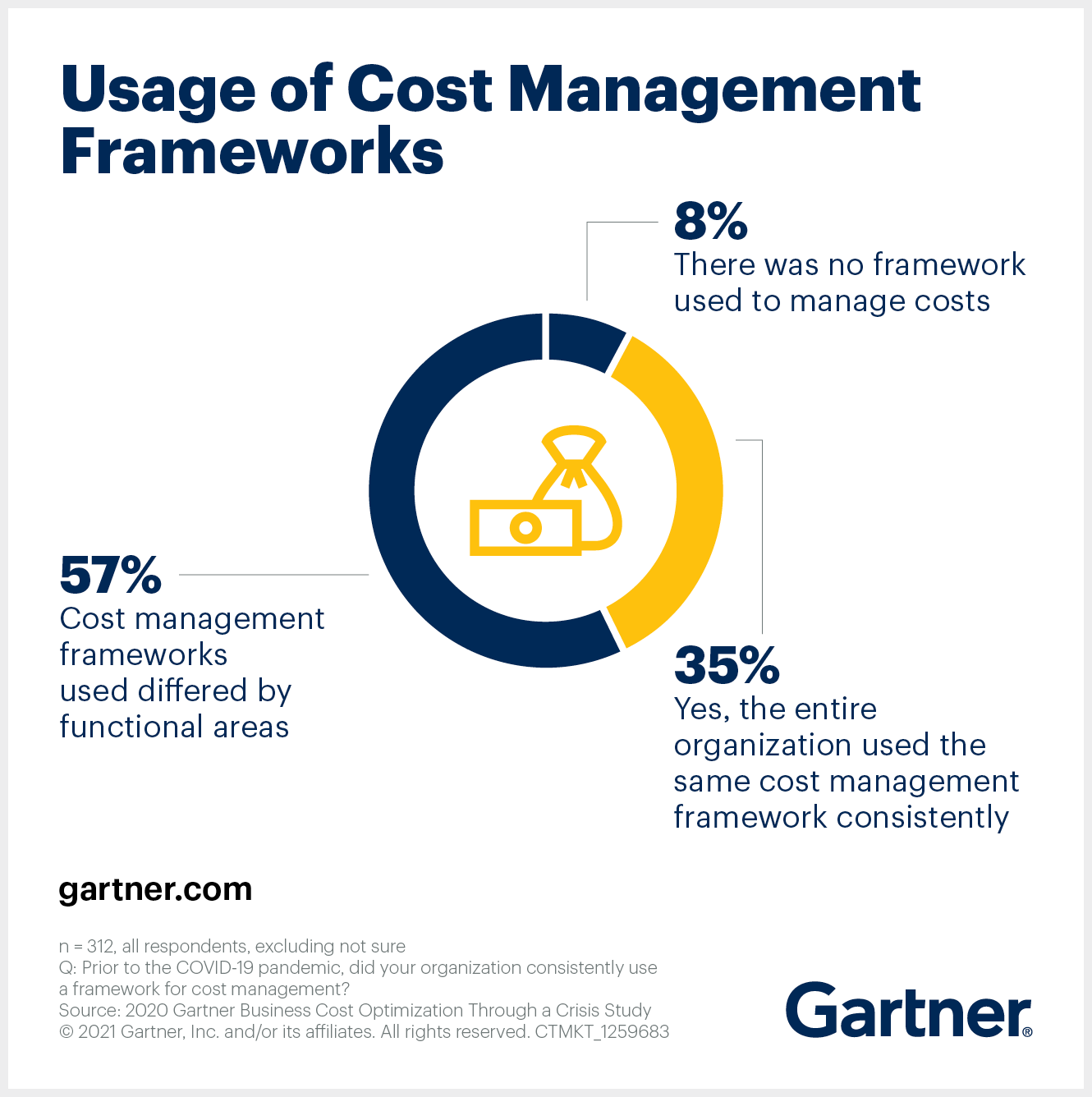 Read more: Executive Guide to Strategic Cost Decisions
Clearly define cost management success
It's hard for organizations to know whether they've succeeded at their cost management initiatives unless they set some measurable goals. Yet only 48% of the respondents strongly agree that they had clear measures in place to track the success of their cost management initiatives.
That slim minority, however, was 2.6 times more likely to succeed at cost management compared to those who didn't have clear measures of success in place.
The most often used (by 66%) measure of success was achieving predetermined cost savings —  for example, categorizing $1.5 million in cost cuts over a six-month period as a win.
Yet, even by that standard, only 39% say they were successful — and other measures were even less successful. Furthermore, the popularity of "cost cutting" metrics is a symptom of how organizations often pursue cost reduction to the detriment of business performance optimization.
Read more: How to Pick Your Best Cost Initiatives
Align view of trade-offs through cross-functional collaboration
Functional silos that create misaligned incentives toward cost management were quoted among the top three challenges preventing the achievement of cost management goals pre-COVID-19.
In general, the finance function is seen favorably by peer cost management executives. Sales and marketing functions share the dubious distinction of being perceived as the worst cost management collaborators.
The key for each organization is to determine which functions absolutely must collaborate and make sure those collaborations shape up smoothly. For example, supply chain and human resources need a better relationship if the former manages temporary labor contracts.
Notably, organizations that use a common cost management framework consistently across functions are more likely to experience higher cross-functional collaboration scores. And enterprises with better cross-functional collaboration were 1.5 times more likely to report better performance on indicators of enterprise performance through the crisis.