Today, HR leaders are simultaneously preparing for an increasingly hybrid workforce while also planning and operationalizing their workforce health and well-being as COVID-19 vaccines are distributed and the prospect of reopening workplaces is in sight.
Read more: Are Vaccine Passports the Route to a Faster Postpandemic Recovery
In a recent Gartner survey of 258 HR leaders, 45% expect their workforce to reopen in the third quarter of 2021, while one-quarter (24%) are planning for their offices to reopen in the fourth quarter.
However, nearly half (48%) of large global organizations will not track the vaccination status of their employees. When asked about requiring employees to show proof of vaccination, only 8% of respondents reported that they will require it.
"Given the uncertainty that exists regarding vaccination status, most organizations that reopen will do so with social distancing and wearing masks," said Brian Kropp, chief of research in the Gartner HR practice.
A permanent shift to a hybrid workforce model
"One of the most interesting findings from this survey is that regardless of reopening plans, only 1% of the HR leaders surveyed expect all of their employees to work full-time in the office. When offices reopen, many individuals will have been working from home for nearly two years or more, and new ways of working will be ingrained," adds Kropp. "As organizations start to bring back employees, it will be critical for employers to focus on building social and emotional connections with, and between, their employees again."
Download guide: How HR Can Support Managers During Uncertainty
Fifty-nine percent of HR leaders said their organization will let employees work remotely occasionally with approval from their manager — a 21 percentage point increase since November 2020.
Additionally, among 241 HR leaders, nearly half (49%) reported they will let employees work remotely on certain days and nearly one-third (32%) will let employees work remotely all of the time. This increased shift to a hybrid workforce will bear heavily on the return-to-workplace strategy.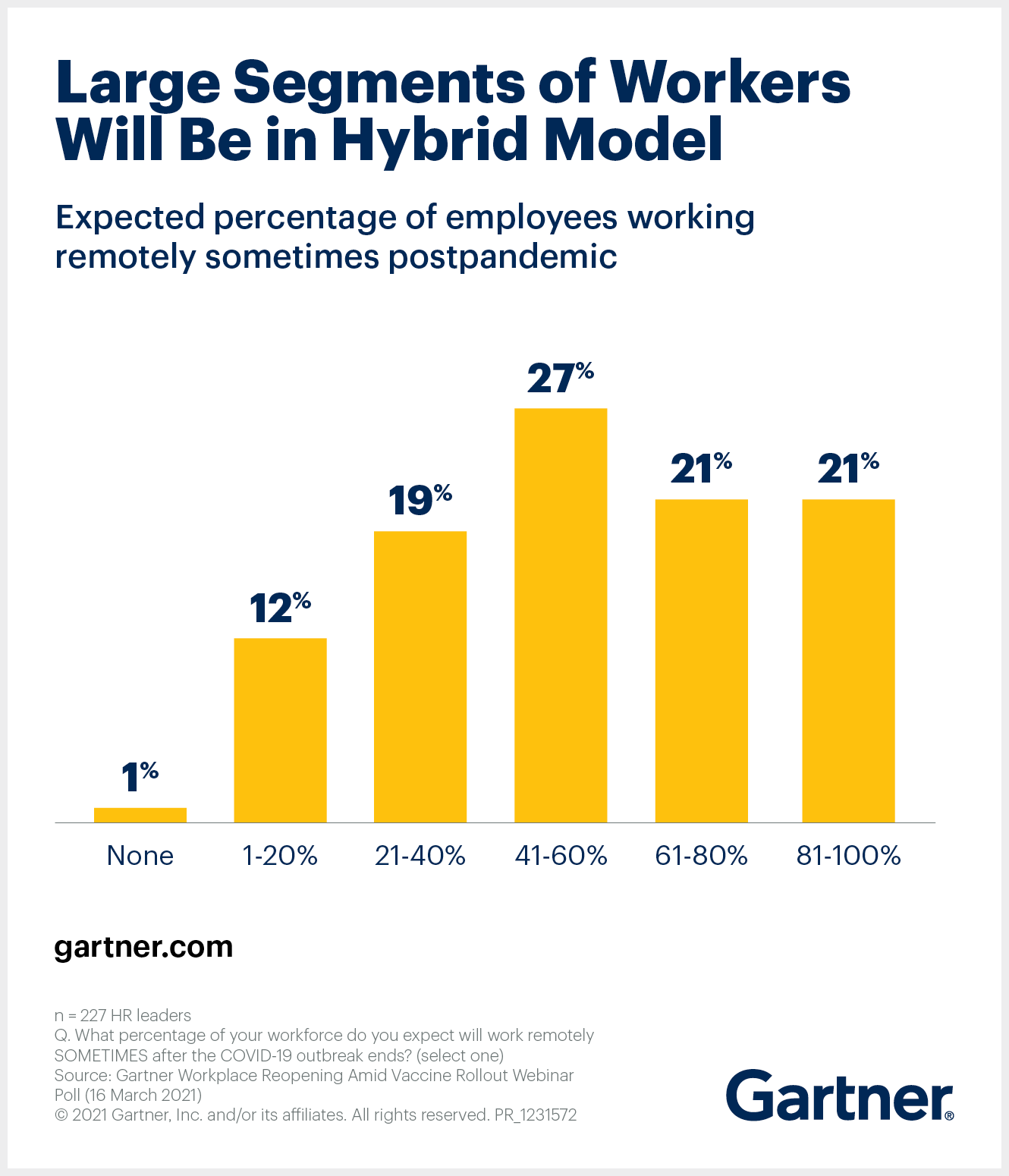 Re-onboarding employees to support their return to workplace
HR leaders must use this transition of employees back into the workplace as an opportunity to re-onboard them as though they are joining a new organization.
To do this successfully, Gartner has identified three main focus areas for HR leaders:
Develop a philosophy on flexibility. Rather than creating a generic flexible work policy, leading HR departments are determining their organization's philosophy on flexibility and sharing this with their workforce.
Communicate the purpose of the office. Prior to the pandemic, organizations simply described their office as the place where their employees work. Now, leaders must determine the role of their physical workplace — a team or company meeting place, a secure workspace, a social gathering space to support the community — and communicate that to employees.
Train managers on supporting employees. With a more dispersed workforce, HR must work with managers on how to manage employees who are working in different locations and at different times.
Read more: 5 Questions Business Leaders Should Ask as COVID-19 Vaccines Roll Out