Since 2017, the number of skills required for a single job have increased by 10% every year, as a result of constant digital disruptions.
However, Gartner surveys of CIOs and CEOs suggest there isn't enough digital talent to support the increase in need. The post pandemic shift toward remote/hybrid working has further increased the competition for scarce IT talent across industries and geographies. CIOs focused on digital acceleration should adopt a modern IT talent management framework to identify, hire and develop high-potential talent.
"The traditional approaches to tackling talent issues are no longer sufficient for the needs of fast-changing digital business. CIOs must rethink how they can future-proof the workforce through a holistic, integrated strategy," says Lily Mok, VP Analyst, Gartner.
Download eBook: Future-Proof the IT Workforce
The Gartner Digital Talent Management Framework focuses on key areas such as recruitment, renewal, retention and release of talent. CIOs and IT leaders can use the framework to first identify and prioritize digital skills and talent needs, then devise strategies for these areas to evolve and develop the workforce in line with changing business priorities.
Recruit
To identify, attract and hire high-potential talent, CIOs and IT leaders can focus on these four aspects:
No. 1: Jobs and talent profiles
Job descriptions often focus only on technical skills and educational qualifications and don't emphasize the broader significance of profiles — their societal impact and alignment with the organization's strategic objectives.
A well-thought-out job description is outcome-based, competency-centric, and helps candidates visualize their personal and professional growth with the company. It generates a much larger talent pool, attracting candidates with diverse backgrounds and potential to apply.
For recruiting high-potential IT talent internally and externally, CIOs can team up with HR leaders to regularly revisit their job descriptions to ensure the language appropriately values core competencies and is not biased toward specific technical skills, credentials or work experience.
No. 2: Employer branding
IT job seekers often create false perceptions of a company based on the characteristics of the industry it represents. For example, they may wrongly associate stability and predictability with an insurance company that is actually aggressively striving for IT innovation. To avoid such misconceptions, CIOs can create an employment value proposition (EVP) tailored to attract and retain top IT talent. They should ensure that job postings clearly articulate attributes that differentiate their IT organization's brand values from those of their competitors.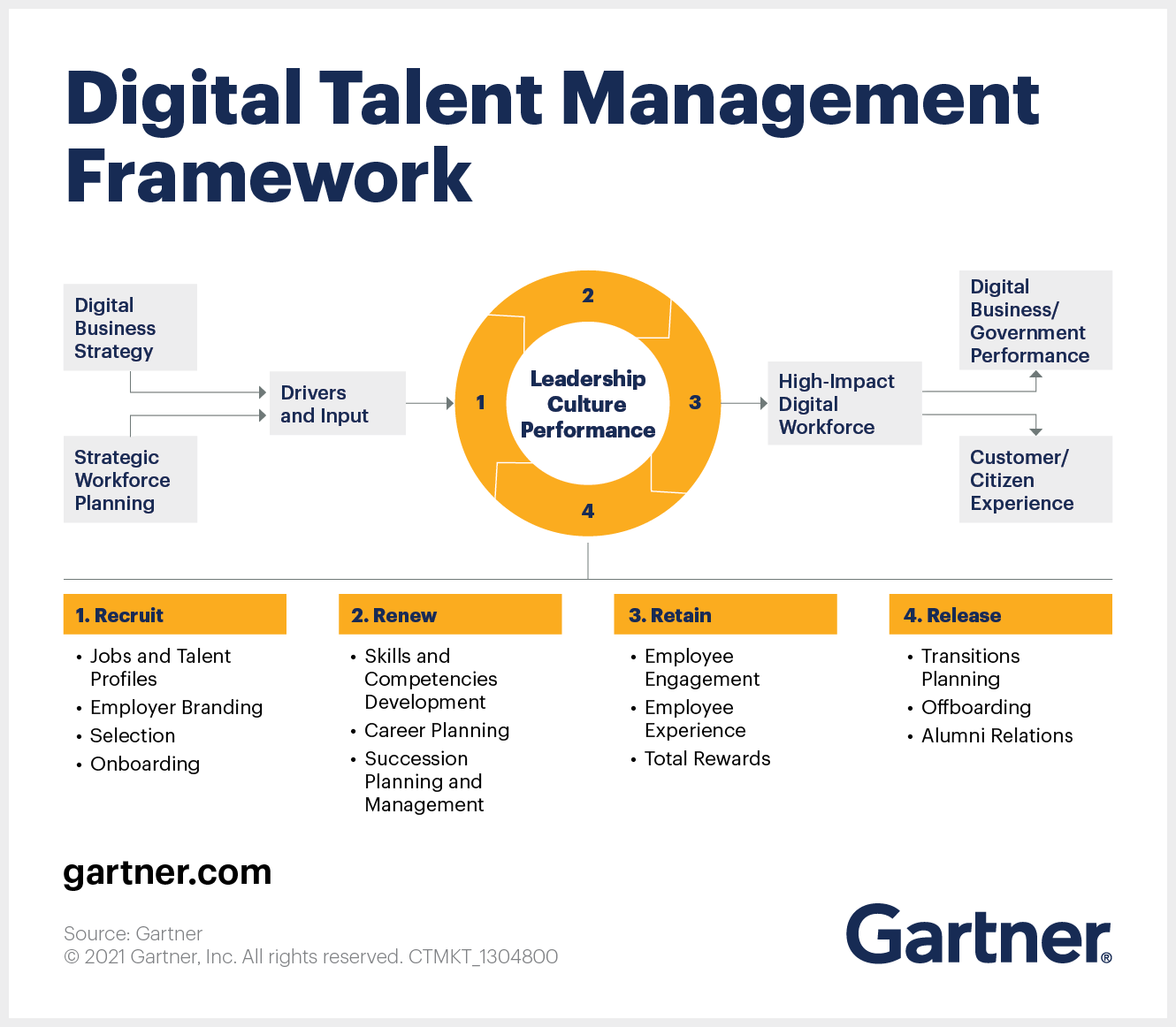 No. 3: Selection
To support fast expansion in digital business and hire a high volume of candidates for IT roles, organizations need a tech-enabled recruitment process that is unbiased and promotes diversity, equity, and inclusion.
CIOs, IT leaders and hiring managers can leverage data and artificial intelligence tools to screen, assess and identify high-potential talent in a time-effective manner. These technologies can help in delivering more engaged and personalized experiences to candidates.
No. 4: Onboarding
An effective onboarding experience can ensure a long-term and mutually satisfying relationship between employees and organizations. A process that goes beyond a few weeks of orientation and lasts up to six months or even a year can ensure that employees organically connect with the company's culture. It offers enough time and space to evaluate and enhance employees' skills and competencies to meet organization's performance expectations.
In a remote/hybrid working environment, a structured and systematic onboarding process becomes even more critical for IT talent management. CIOs and IT leaders can collaborate with HR to reimagine onboarding programs for a virtual workplace.
The remote working environment can make it harder for new hires to connect with organizational culture. The redesigned programs should aim at encouraging cross-functional networking, learning and collaborative working.
Renew
To ensure continuous renewal of workforce capabilities that support the changing needs of digital business, the leadership should focus on:
No. 1: Career planning with skills and competencies development
Top IT talent seeks diverse opportunities and personalized learning paths to become a versatile, high-value contributor for the company, which a systematic IT talent management process can facilitate. CIOs and IT leaders can recognize and enhance the skills of their existing workforce instead of hiring new talents for evolving digital business needs, thus promoting a culture of upskilling and reskilling. Encourage IT talent to regularly take skill assessment tests so that customized learning paths can be designed for each employee. Institute Connector managers who can better understand the motivations of employees and coach them accordingly.
No. 2: Succession planning and management
In an increasingly competitive talent market CIOs face disruptions like impending retirements of key leaders or the loss of talent having scarce skill sets. Embracing succession planning and management as an ongoing process can enable organizations to:
Bounce back from disruptions
Seize new opportunities
Feel confident that they have capable IT talent to fill the void in pivotal roles
Retain
CIOs and IT leaders should discern factors that impact employee engagement and develop a total rewards strategy to motivate and retain employees for the long term.
No. 1: Employee engagement and experience
Research has consistently shown that organizations with better employee engagement scores surpass competition in business performance. There are professional companies (such as Gallup) that help organizations benchmark their employee engagement scores to identify areas of improvement.
The global shift toward a remote IT workforce has changed how work environments, productivity and responsibility affect one another. CIOs should adopt more intuitive and empathetic leadership styles to keep employees healthy, motivated and efficient in a virtual setup.
Conduct pulse surveys to collect and assess feedback from employees. The results will demonstrate the effectiveness of hybrid/remote workplace designs to enhance employee experience.
No. 2: Total rewards strategy
Compensation is essential to attract top IT talent, but it is not the only factor that drives employee engagement, motivation and retention.
A total rewards strategy is a more comprehensive way to deliver the organization's employment value proposition through five elements — compensation, benefits, career management, performance recognition and work-life balance.
As the significance of each element varies with targeted talent's wants and needs, CIOs can collaborate with total rewards leaders to create personalized and relevant humanized employment deals. For example, in the public sector, the compensation element is not as lucrative as in other industries, but that can be balanced by highlighting other attributes like sense of purpose, shared mission, stability and work-life balance.
Release
Former employees may rejoin the company in the future or become valuable customers, partners and brand advocates. Therefore, transition planning and offboarding become as essential as the onboarding of a new hire.
No. 1: Transition planning
Different circumstances lead to different kinds of transitions in companies. There can be job transfers/promotions, mergers and acquisitions, lay-offs, etc.
Transition planning considers all such circumstances to create robust processes (like the onboarding process for hiring new employees) to handle transitions across the organization. Without a well-structured process in place, familiarizing a leader with the new role or promoting an employee to a leadership position may become challenging. Development plans for high-potential IT talent, mentoring or "buddy" systems can make such transitions smoother.
No. 2: Offboarding
It should go hand in hand with succession planning and allow enough time for the departing employee to transfer the knowledge. If done well, there will always be internal candidates (especially for leadership and critical roles) to fill the void and take on the new role.
The exit interview should create a secure and amicable environment for the employee to be candid and provide well-thought-out feedback. The feedback can be used to improve employee engagement and retention practices.