The global pandemic disrupted the flow and pricing of raw materials and finished products, but circular economy models help build supply chain resilience in the face of such disruptions.
Recent research from Gartner Senior Director Analysts Sarah Watt and John Blake offers guidance to chief supply chain officers (CSCOs) on how to start and advance their circular economy strategies.
This article recaps their key points, edited for clarity and length.
5 Key Trends Transforming Supply Chain
Learn more about the issues shaping the future of supply chain
Download eBook
How does the circular economy help supply chain resilience?
In a traditional linear economy, products are made, used and disposed of. In a circular economy, resources are kept in use for as long as possible to extract the maximum value from them (unlike the traditional make, use, dispose model). At the end of a product's life, materials are recovered and regenerated.
The circular economy is based on three tenets that support supply chain resilience:
Remove waste, complexity and toxicity from products for more effective end-of-life resource management.
Keep raw materials in use for as long as possible and at their highest quality.
Return materials into the environment with a positive impact.
Applying the circular economy could unlock trillions of dollars in the global economy, create hundreds of thousands of jobs and lead to millions of tons of avoided emissions.
So what is holding businesses and economies back from maximizing this opportunity?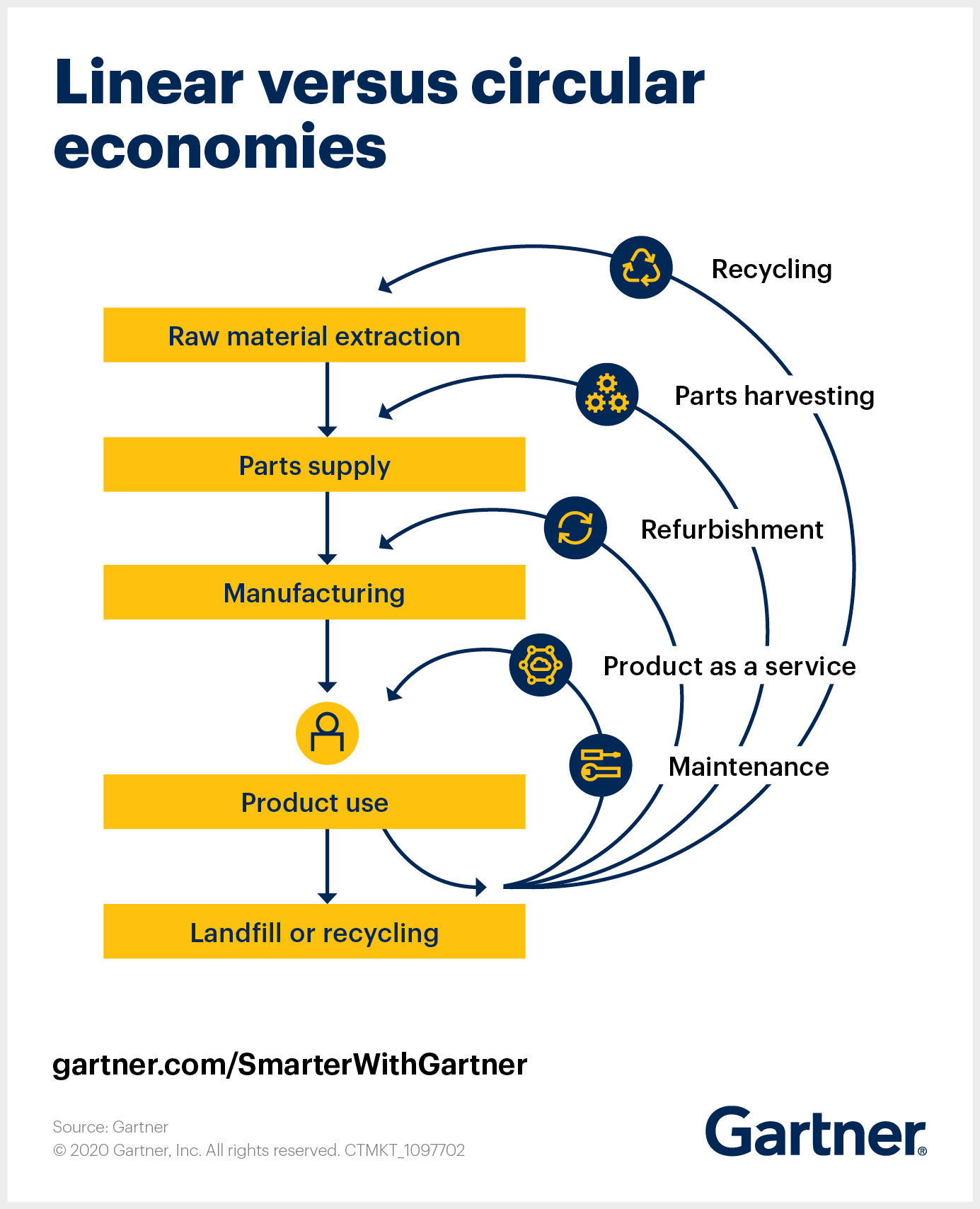 Overcoming 3 barriers to a circular economy
Lessons learned from top supply chain companies (top performers in the Gartner Supply Chain Top 25) show that progressive supply chain organizations act to address three potential barriers to a circular economy:
Raw materials choices are locked in at the design stage, making it difficult to advance the circular economy.
The growing need for end-of-life materials management is driving customer engagement and new business models.
Lack of strict selection criteria when engaging in collaborative partnerships may lead to excessive investment of resources for limited return.
What actions do they take?
Download now: The Gartner Supply Chain Top 25 for 2020
Action No. 1: Influence product design early to consider circular economy
When the choice of raw materials is locked in at the design stage, it can complicate end-of-life product management and refurbishment. The supply chain organization must assume the role of collaborative business partner in the design process to influence raw materials decisions proactively. Provide input to materials selection decisions, outlining opportunities for materials innovation and co-authoring circular economy design principles.
Our research shows that 70% of the Supply Chain Top 25 have included circular economy principles as part of innovation and design.
Common approaches include:
Break down supply chain silos to work with design teams to assess opportunities to create points of value by moving toward a circular economy.
Take action by putting in place common design guidelines to meet circular economy outcomes and business objectives.
Work with design teams to identify raw materials partners for innovation through setting open design challenges. Identify opportunities to invest in materials innovation in collaboration with R&D.
Assess stakeholders, especially customer acceptance criteria, when setting clear targets for the inclusion of recycled content into new products to stimulate secondary materials markets. Set an escalating commitment over time, while being mindful of potential negative impacts on product quality and customer product experience.
Action No. 2: Drive customer engagement in the circular economy
Transactional business models rely on customers to return end-of-life products or select the most appropriate disposal routes to enable materials recovery. Organizations are leveraging product-as-a-service models to ensure direct access to end-of-life products for refurbishment or recycling.
Some companies use third-party criteria to assess product sustainability and circular economy performance. This looks like an environmental scorecard for each product to support consumer purchasing decision-making processes. Organizations are also offering product repair and maintenance services to keep products in use for as long as possible. This can be achieved through pay-per-repair models or by offering extended product warranties.
Our research shows that 40% of Supply Chain Top 25 organizations publicly outlined some of their approaches to improve customer engagement to drive circular economy outcomes.
Among the actions supply chain organizations can take are:
Partner with sales to assess the opportunity of portfolio segmentation by either internally defining products' circular and sustainability credentials or leveraging external standards.
Assess the impact of offering products as a service or refurbished products for sale on supply chain network design by engaging with sales to understand the level of uptake.
Define opportunities to strategically increase raw materials recycling rates by assessing products' end-of-life consumer behavior and working with industry partners.
Action No. 3: Set clear criteria for circular economy partnerships
A circular economy is a system change that relies on collaboration for problem solving and to achieve scale. Our analysis of the Gartner Top 25 showed that 77% of supply chain organizations are collaborating with at least one of the following groups: Startups, specialist recyclers, foundations and international groups.
Organizations are also launching cross-industry collaboration to achieve scalable circular economy solutions. Collaboration requires both time and resources. Supply chain leaders must be clear on the resources required and the return expected from collaborative relationships.
Among the criteria:
Define the selection and success criteria for collaborative partnerships by aligning collaborations with supply chain circular economy objectives. Include collaborator competencies, opportunities for joint value, and the time and willingness to learn as part of the collaboration selection criteria.
Leverage collaborations to directly solve circular economy barriers by scanning the horizon, looking for innovations, technology and partners.
Periodically reassess collaborations by testing the values that partnerships have delivered in advancing the circular economy strategy and overcoming barriers.