A recent survey of more than 800 HR leaders shows that although many expect their organizations to focus on growth in 2021, cost optimization features more widely than it did previously — and improving operational excellence remains paramount. To support these and other business priorities, 68% of HR leaders say they will be building critical skills and competencies, an objective that has topped the priorities of HR leaders for three consecutive years.
Organizational design and change management also feature among the key objectives for HR leaders, as does building a bench of current and future leaders. None of these goals is new to HR leaders, but all have been made more urgent by the effects of COVID-19.
"As organizations move from their initial pandemic response to more sustainable operations, they're trying to build resilience into everything, from strategy to work design, so as to enable the organization, its leadership and employees to sense and respond to change, repeatedly," says Mark Whittle, VP, Advisory, Gartner.
Watch webinar: The Top Priorities for HR Leaders in 2021
Gartner Top Priorities for HR Leaders in 2021
Insights on HR's goals, challenges and initiatives for the year ahead.
Download eBook
Top priority No. 1: Building critical skills and competencies
HR leaders see building critical skills as vital to driving many of their organization's priorities — from growing the business and executing business transformation to improving operational excellence.
One-third or more of HR leaders agree the major challenges include their lack of visibility and understanding of current skill gaps and being unable to integrate learning effectively into employee workflows.
Use a dynamic approach for future-forward skills development
Traditional ways of predicting needs and upskilling the workforce aren't working in today's highly changeable conditions, where employees need more skills for every job and many of those skills are new. Gartner TalentNeuron™ data shows that the total number of skills required for a single job is increasing by 10% year over year, and one-third of the skills present in an average 2017 job posting won't be needed by 2021.
Furthermore, many employees aren't learning the right new skills — for their personal development or the benefit of the organization.
Gartner research shows that HR leaders need to adopt a dynamic approach to reskilling and redeploying talent, one in which all impacted stakeholders work together to sense shifting skill needs and find ways to develop skills as those new needs arise. Currently, only 21% of HR leaders say peers share accountability or partner with HR to determine future skill needs.
Gartner research shows that when using this type of dynamic approach to reskilling, employees apply 75% of the new skills they learn — far more than with other approaches — and learning begins sooner, as needs are identified faster.
Adopt new recruiting tactics
HR leaders also need a more modern and out-of-the-box approach to recruiting. Traditionally, organizations sought to replace roles and individuals in the workforce by seeking a similar set of candidate profiles — from known talent pool sources and from those attracted to the existing employee value proposition (EVP).
Instead, to ensure quality hires:
Prioritize skills instead of hiring profiles

Seek to tap into the total skills market, not just known talent pools

Make sure the EVP evolves to deliver on changing candidate wants and needs
Gartner research finds that 65% of candidates have cut short the hiring process because they found certain aspects of the job (e.g., work-life balance, development opportunities, company culture) unattractive.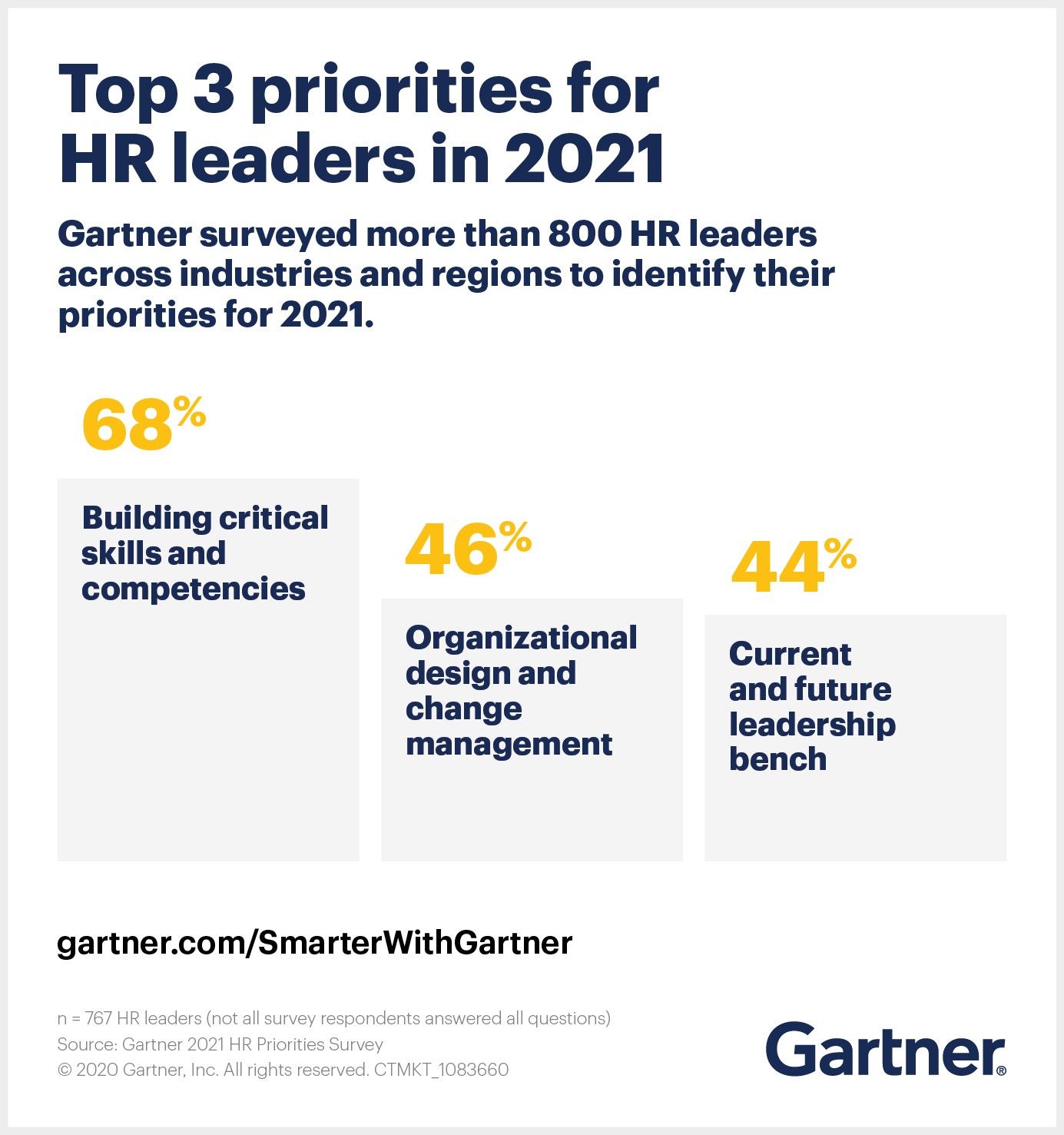 Top priority No. 2: Organizational design and change management
This objective is a top priority for 46% of HR leaders. And it's key to driving many enterprise business goals, including cost optimization (which aligns costs and resources to business priorities).
Many organizations have experienced, in trying to respond at speed to the effects of the pandemic, that their years-long focus on efficiency has actually left them with rigid structures, workflows, role design and networks that don't meet today's needs or flex with fast-changing conditions.
Work friction weighs down employees
Gartner research shows that only 19% of HR leaders report that their workforce can effectively change direction based on changing needs or priorities. Less than 40% believe employees can effectively detect when they are working on the right things for customers.
What is keeping employees from adapting to change? Research shows outdated work design is the cause of numerous forms of work friction. Future-forward work design is what's needed to ensure employees can be responsive — that is, in sync with customer needs, in a position to anticipate changes in those needs, and with the ability to adapt their approach and activities accordingly.
This work friction adds to the burden of incessant everyday change that is driving widespread change fatigue. That fatigue means employees are unable to process change at a time when organizations most need them to be responsive and adaptable.
Unlock employee responsiveness
HR leaders can help prevent change fatigue, and address the specific factors that contribute to work friction. Rethinking work design strategies can help to unlock responsiveness at scale across the workforce and build organizational resilience.
Tactics include realigning work design to the way work really happens and resetting rigid permissions and signoff processes and hurdles so they don't unnecessarily impede innovation and action.
This type of shift from designing for efficiency to designing for flexibility is expected, according to 52% of HR leaders, to have a significant impact on their organizations into 2021. Only 8% said they expected no impact from this evolution.
Top priority No. 3: Current and future leadership
Strong leadership is especially important during times of great change. Gartner research recently showed that only 44% of employees say they trust their organization's leaders and managers to navigate a crisis well.
Lack of diversity tops the leadership concerns of HR leaders. This contributes to the lack of confidence and trust in leadership in a year when demands for equity and inclusion have, in general, become more visible and ardent from both employees and the public.
Gartner TalentNeuron data illustrates the lack of diversity among the leadership of U.S. companies. It shows that only 10% of senior-level corporate positions are held by a woman from a racial or ethnic minority and only 18% by a man from a minority segment.
The barriers that impede advancement among underrepresented talent equally apply to the leadership pipeline. Potential leaders from diverse groups often face unclear career paths and steps to advancement, get too little exposure to senior leaders, and lack mentors or career support.
Go beyond mentoring to nurture diverse leadership talent
HR leaders know it takes more than intent to fix bias. A Gartner survey of HR leaders in early 2020 found that 88% felt their organization had not been effective at increasing diverse representation. The imperative for diversity, equity and inclusion leaders now is to assess all the systems and processes that systematically deter equal opportunity, as well as take proactive measures to build diversity on the leadership bench.
One approach is to manufacture more intentional networking opportunities that expose high-potential diverse talent to a network of connections that are diverse in role, skills, level and experience — and directly expose that talent to senior leaders who can support their growth and advancement.
Organizations that use diversity networking programs are 3.4 times more likely to report they are effective at increasing opportunities for talent mobility.