Data sharing remains crucial to team and organizational performance, yet organizations report that they struggle with how to create a trusted data-sharing culture.
However, Lydia Clougherty Jones, Senior Director Analyst, Gartner, says "Data and analytics leaders who are able to create a data-driven culture over a data-siloed culture drive more data and analytics value for their organizations."
To help data and analytics (D&A) leaders create a data-sharing culture, Jones offers five insights to overcome behavioral, process-oriented and technology challenges.
Gartner IT Symposium/ Xpo®
Objective insights, strategic advice and practical tools to help CIOs and IT executives achieve their most critical priorities

Learn More
Resist data hoarding
An overly risk-averse approach to data sharing can create a lack of access to key data. This creates a temptation to "hoard" data, which is a compulsive need to acquire data and the unwillingness or inability to share it internally.
Identify the emotional influences and inherent biases that hamper data sharing. Then partner with executive sponsors to facilitate internal data sharing, emphasizing the need for collaboration, not data ownership.
Prevent data hijacking
Be careful not to accidentally or purposefully give exclusive access to an outside party, or you may find that your organization no longer has rights to its own data. This creates a significant risk, as external entities may seize unauthorized control of your organization's data.
Prevent data hijacking by including data-sharing and data-value protection in your agreements; you cannot create a data-driven organization without data-driven terms. Partner with legal counsel when necessary, and use a "data rights model" to enable flexible data collection, use and sharing in contracts.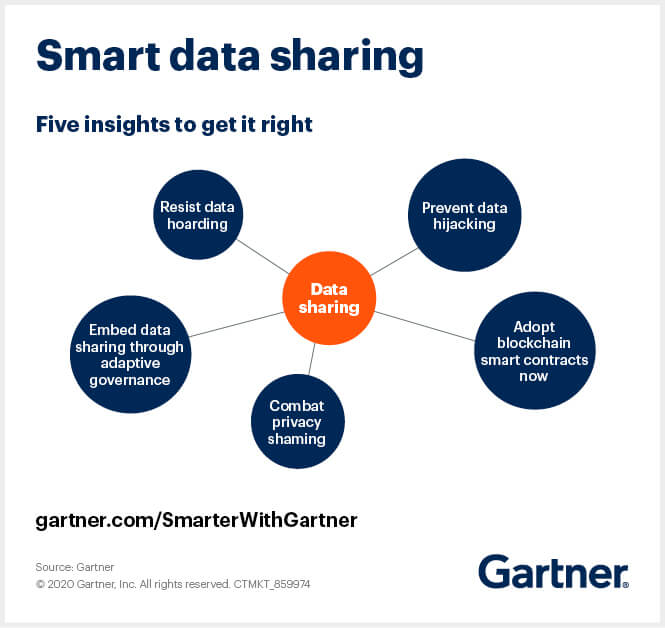 Pilot or adopt blockchain smart contracts now
Blockchain smart contracts promise a near certainty of trusted exchange. They are immutable and irrevocable through nonmodifiable code which enforces a binding commitment to do or not do something in the future. They also eliminate third-party intermediaries (e.g., bankers, escrow agents and lawyers) and their fees, as smart contracts perform the intermediary functions automatically.
Deploy blockchain smart contracts to automate a simple business process, such as nonsensitive data distribution or a simple contract formation for contract performance or management purposes. Then, pilot blockchain smart contracts to automate multiparty contracts within a well-defined industry, such as banking and finance, real estate, insurance, utilities or entertainment.
Combat privacy shaming
Sometimes employees within an organization discourage data sharing by engaging in "privacy shaming." Communicate often and clearly how data privacy works in your company and how privacy principles balance global data sharing with consumer data rights. Transform data-protection compliance into data-sharing opportunities, improving customer experience and fostering social good for customers.
Embed data sharing through adaptive governance
As the risks of data sharing grow, find a balance between promoting data sharing and ensuring appropriate use of data. Embed data sharing through adaptive governance, which determines the right governance styles and mechanisms that deliver required business outcomes in a given context. To do this, shift from a command-and-control-oriented approach to more collaborative approaches.