The COVID-19 pandemic has made employees realize that work is now something they do, not a place where they go. Ultimately, it releases employees and employers from the concept that they need to be in an office to accomplish their work.
Gartner estimates that remote workers will represent 32% of all employees worldwide by the end of 2021, up from 17% in 2019. In addition, as offices reopen throughout 2021, 51% of those employees will be working in a hybrid environment, working from home at least one day a week.
Learn more: Gartner IT Symposium/Xpo™
Remote work varies considerably around the world depending on IT adoption, culture and mix of industries. In 2022, 31% of all workers worldwide will be remote. The U.S. will lead in terms of remote workers in 2022, accounting for 53% of the U.S. workforce. Across Europe, U.K. remote workers will represent 52% of its workforce in 2022, while remote workers in China and India will account for 28% and 30%, respectively.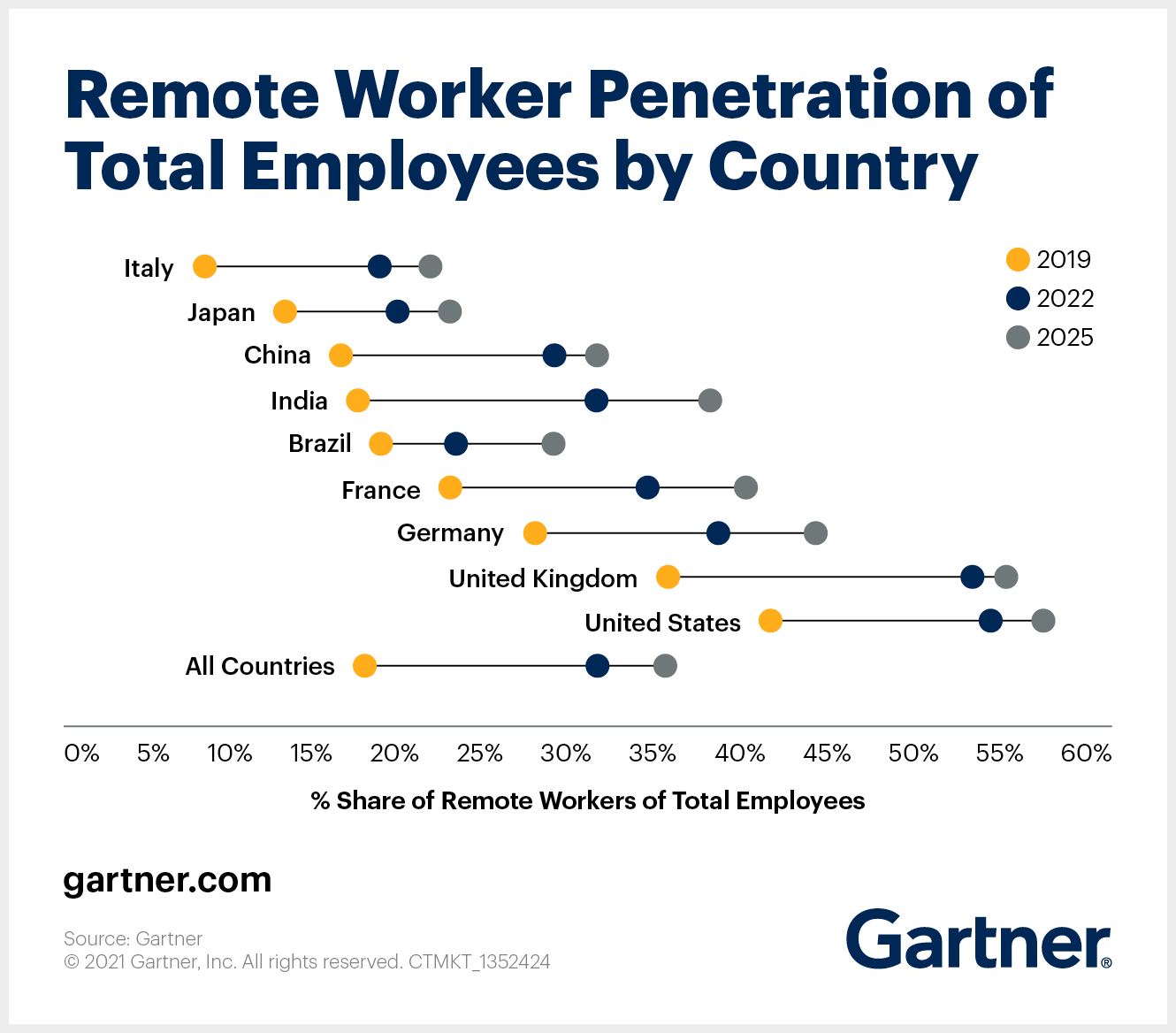 Impact on how IT is procured and used in a hybrid workplace
Remote work is forcing organizations to bring forward digital business transformation plans by at least five years. Those plans will have to adapt to a post-COVID-19 world that includes permanently higher adoption of remote work and digital touchpoints.
Remote workers are enhancing their productivity by using more device types. Through 2024, remote workers will use at least four different device types for remote working, up from three devices in 2019. Furthermore, Gartner predicts that 10% of workers will try to trick AI-driven tracking systems by 2023, increasing the challenge for employers to monitor employees remotely.
The adoption of cloud technologies is also increasing. Worldwide end-user spending on public cloud services will grow 26.7% in 2021 as CIOs and IT leaders continue to prioritize cloud-delivered applications, such as software as a service (SaaS).
To ensure business continuity, CIOs and IT leaders had to change and adapt several IT approaches, from expanding VPN capacity to alternative means of unified communications (UC). SD-WAN solutions will serve 2% to 3% of the global remote workforce by the end of 2021, driven by the need to improve and secure work-from-home connectivity.